South Pasadena High School
Alumni Association - Classes of 1907-2020
In Memory
Charles Fillmore Prickett - Class Of 1967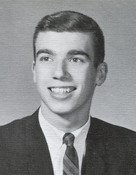 PASADENA - Dr. Charles F. Prickett III, a prominent orthopaedic surgeon and chief of surgery at Huntington Hospital, died in his sleep of a heart attack Sunday night at his home in Pasadena. He was 57.
Prickett performed surgery and treated children and adults with complex spinal problems, working at the Risser Orthopaedic Group for the past 22 years.
"It's been a huge impact on everybody that works here at Huntington," said Stephen Ralph, president of the hospital. "He was an excellent surgeon and a leader everybody respected."
Prickett was elected chief of surgery by his peers at Huntington, providing top-flight surgeons and medical practices for the program, according to Ralph.
"He was a very caring person, and that not only to his patients but to everybody," Ralph said.
In addition to his role at Huntington, Prickett ran the scoliosis clinic at Orthopaedic Hospital in Los Angeles, and served as chief of staff for St. Luke Medical Center in 1994 and 1995.
"He was known for the care he gave. Not only did he have the excellent hand of a surgeon in doing complex back surgeries, he was also a caring physician," said Dr. Donald Norquist, a colleague at the Risser Orthopaedic Group.
Prickett was born in 1949 in Pasadena. He graduated from South Pasadena High School before receiving his bachelor's degree from Occidental College in 1971, his master's degree in physiology from USC in 1973, and his medical degree in 1978 from USC.
He spoke at USC's graduation ceremony in 1978, and received the George Herron Memorial Award, presented to the student "who has given the most to his class during medical school." He later served as president of the USC Medical Alumni Association in 1986.
For more than 20 years, Prickett drove to the Calexico Clinic in Mexico every four months, in conjunction with L.A. Orthopaedic Hospital, to treat children with spinal problems.
Prickett is survived by his wife, Mary (SPHS '67), and three children, Drew, Laura and Erin.
Pasadena Star-News, October 18, 2006