South Pasadena High School
Alumni Association - Classes of 1907-2019
In Memory
Simeon Baldwin - Class Of 1929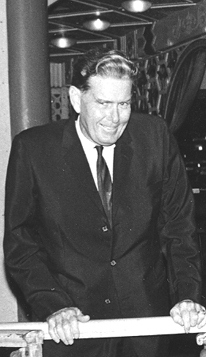 Simeon Baldwin
1912 - 1972
************
Hong Kong, Sunday, December 7, 1969. Communist China released two Americans today after having held them captive since February 16. They sailed their yacht to a small island off Hong Kong and reported by ship-to-shore telephone that they were "all right."
Simeon Baldwin of Los Angeles and Bessie Hope Donald of Bristol, Virginia, reached Tsing Yi Island aboard Mr. Baldwin's yacht Morasum a few hours after their release was announced by Hsinhua, the Chinese press agency. There had been reports that they were held in Kwangtung Province, which is adjacent to Hong Kong.
Mr. Baldwin and Mrs. Donald were in a group of 15 yachtsmen captured by Chinese gunboats last February 16 while sailing from Hong Kong to Macao, a Portuguese territory. The 13 others--British, Chinese, Australian, and Norwegian nationals--were released April 2.
Mr. Baldwin has a wife and daughter living in Laguna Beach, California. Mrs. Donald, of Bristol, Virginia, is the estranged wife of Peter Donald, an actor, and has been living in Hong Kong for about six years. They and the 13 other persons were on a weekend cruise from Hong Kong to Macao aboard three yachts. The yachts were seized while on the 40-mile journey by Chinese gunboats. The other yachts in the group completed the voyage safely. Mr. Baldwin, Mrs. Donald, and a Hong Kong Chinese were aboard the Morasum, a 12-ton auxiliary yawl.
According to Hsinhua, the two Americans were taken into custody by Chinese civil police after they "illegally intruded" into Chinese territorial waters near Chuhoi county, Kwangtung Province. The broadcast said the Americans destroyed their papers and "at first adoped a very dishonest attitude.." Hsinhua indicated that these actions had led to their continued detention after the release of the other yachtsmen.
It added: "After the Chinese authorities concerned had examined and verified the facts, the two Americans admitted their mistakes of trying to conceal their identity and intruding in China's territorial waters."
The yachtsmen released earlier reported that the Americans had thrown their passports overboard before their capture, probably because they believed it would be wiser not to have papers identifying them as Americans.
Simeon Baldwin served with General Claire Lee Chenault's Flying Tigers in China in World War II and remained in the Far East after the war. He became a pilot for Indonesia during the independence struggle with the Dutch in the late 1940s. Later he lived in Bangkok, where he dealt in sales franchises, until moving to Hong Kong in 1955. Mr. Baldwin is general manager of an aircraft parts company, Airstocks, Limited. Like the owners of the other two yachts seized, he had made the 40-mile trip to Macao frequently without incident.
The persons who were released in April reported that they had been "treated very well" physically by the Chinese, and had been given plenty to eat. The Chinese crewman on the Morasum with Mr. Baldwin and Mrs. Donald, Leung Fook, was one of the 13 released in April.
Six other non-Communist Americans are still being held by the Chinese Communists.
The New York Times, December 7, 1969