South Pasadena High School
Alumni Association - Classes of 1907-2019
In Memory
Inge Sonja Navall (Thiene) - Class Of 1940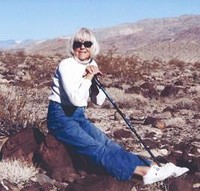 Sonja Navall was born July 18, 1923 in Alberta, Canada, and immigrated to the U.S. where her father took a teaching position at Antioch College in Ohio. While Sonja was still a child, the family moved to South Pasadena, California. When she was 18, Sonja's free spirit lead her to New York City where she professionally skated with the Ice Capades for two years. She returned to California and graduated with a teaching degree from one of the Claremont Colleges. In 1946 she married Paul Thiene, a research physicist. They started their lives together in Pasadena but soon moved to Laguna Beach to raise a family.
In retirement, the couple moved to Carmel and finally The Sea Ranch. As a mother of three daughters, Sonja worked for the Laguna School District, primarily as an administrative assistant to school principals, to be close to her children. She was a nurturing and giving mother and cared deeply for the welfare and happiness of her family.
After 58 years together, Paul died in 2004 after a two-year battle with cancer through which Sonja personally cared for him at home, a testament to her unfailing giving and nurturing nature. About two years later, her life started a wonderful new chapter when she met Randy Owings. Together they traveled the world and spent happy times at The Sea Ranch.
Throughout her years, Sonja was open to life, loving her family and friends. She also loved being near the ocean and had a deep appreciation for the beauty of nature. She enjoyed interacting with others and was active as a member of the PTA in Laguna, and as a volunteer at a hospital in Carmel and then at Point Arena Light Station and Blue Dolphin Gallery in Gualala while living at The Sea Ranch. Her spirit shone brightly and was filled with spunk, humor, intelligence, open-mindedness, curiosity, kindness, sensitivity, optimism and an incredible capacity to give love. She was always open to that next adventure! She was a beautiful woman who made the world a better place. She will be profoundly missed by all who had the privilege of loving her.
Sonja passed away April 8, 2012. She is survived by her daughters Pamela Thiene, Kristin Thiene, and Maya (Tom) Redwitz; two grandchildren; sisters, Gundula Navall Simpson (SPHS '46) and Maya Navall McKenzie (SPHS '43); and Leia, her cat.
Long Beach Independent, June 13, 2012