South Pasadena High School
Alumni Association - Classes of 1907-2017
Forgot Password?
PASSWORD RETRIEVAL: Can't remember your password or maybe you changed your email address and need to reset your password?
1) Find the Log In box on the home page. Click on "Forgot Password?" It's just above the green Log In button.
(Example below)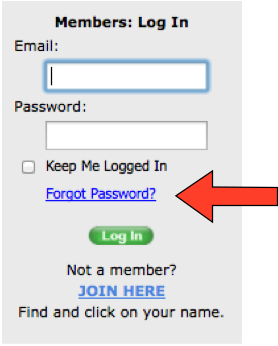 ---
2) A password help page will open. Enter your Primary Log In Email Address. (Please Note: if you have entered a secondary email address on your contact page, it will not allow you to log in or retrieve a link).
(Example below)

---
3) Look in your email in-box for your "Reset Password Link". Click the link.
If you don't find the reset email in your inbox within 5 minutes or less, please check your junk/spam folder. If its there you will need to safelist our email address [noreply@sphsaa.org].

Click here for ---->

"Safelist SPHSAA" Instructions
(Example below)

---
4) Enter a NEW password.
(Example below)

NOTE: You can log in from computers other than your home computer but you will need to enter your email address and password.
Note: In very rare cases an administrator may need to update your email address for you. If so, you may use these instructions to reset your password.
Click Here to Return to FAQ menu page