South Pasadena High School
Alumni Association - 1907-2022
Member Functions Menu
* Read about "POSTING ANNOUNCEMENTS" at bottom of page
---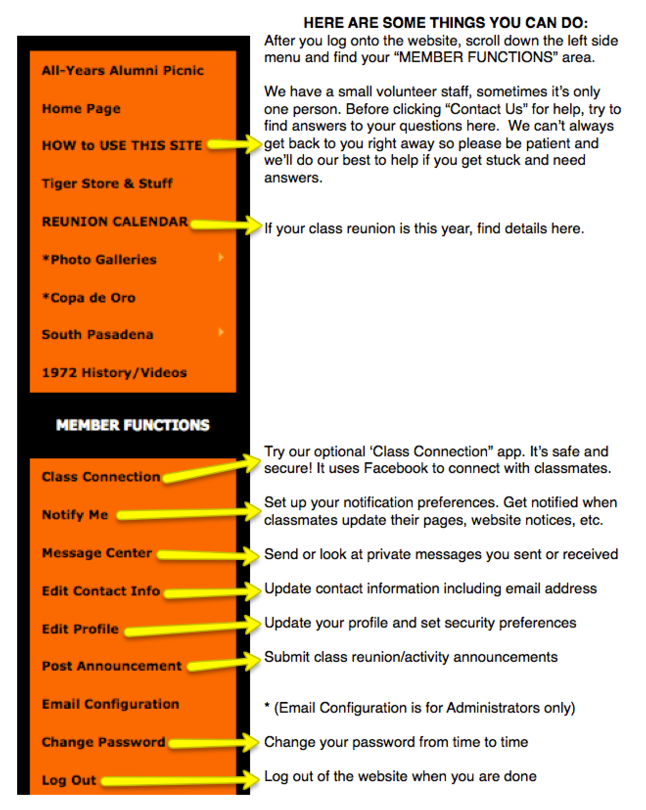 POSTING ANNOUNCEMENTS
POST ANNOUNCEMENT: is only used for SPHSAA-related announcements such as alumni reunions, picnics and other events. Only the website administrator can approve and post these.
POSTING CLASS EVENTS: You may use "Post Announcement" to request the administrator approve and send your class year the details and information about an upcoming event. This information will not be posted on the home page of the website.
PERSONAL ANNOUNCEMENTS: If you would like to post your current achievements, successes, promotions, talents, newsworthy events, personal projects, book signings, products, etc., you may

post these on your personal profile page

. If you wish you can adjust your setting at the bottom of your profile page and make it a public page open to anyone on the Internet to visit. Otherwise we suggest you keep your page private, only for registered alumni to visit.
POSTING IN THE "TIGER TALK FORUMS": You may also submit your stories, memories and other appropriate items for posting in the "Tiger Talk Forums". This area is password protected and not accessible to the public. Posts are reviewed and posted at the discretion of the website administrator.
NO SELLING OR PROMOTING: As a non-profit organization we can not promote or sell for profit items on our website. You may add an explanation of what you do or sell on your personal profile page and include a link to another website or blog. You can not spam (meaning: no sending of political, religious or sales related communications without an individuals permission). Promoting alumni related events is allowed.
Click Here to Return to FAQ menu page