South Pasadena High School
Alumni Association - Classes of 1907-2020
In Memory
Todd Robinson Brem - Class Of 1961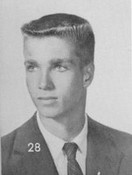 I'll always remember Todd Brem. Not because I knew him well or always stayed in touch; but because of what he and his life has meant to me.
We met on the first day of school in Mrs. Vesco's homeroom in 1956; two eighth-grade newcomers brought by our families to the Leave it to Beaver world of South Pasadena. We came from different communities; he (as I recall) from Garden Grove, me from East Los Angeles. As we stood in front of the class and were assigned to student guide, we both felt the certain uncertainty every newcomer faces.
For Todd it didn't seem to last long. At ease with himself and others, outstanding in the classroom and athletic field, ambitious and hardworking in the best sense of both words; Todd quickly rose to the top of our homeroom and rest of what was to become SPHS Class of '61. I watched Todd with envy admiration; wishing I had been able to move so quickly to the top of South Pasadena's structured and stratified world.
Yet Todd never forgot me. Though we moved in different circles, he was always genuinely friendly, outgoing, and empathetic. He asked me to play the lead role in his skit when he ran for ninth grade office, affording me a brief moment in the spotlight. In high school his star continued to soar on all fronts, yet he was never too busy to pass a few moments or shoot a quick comment to less stellar classmates, including they boy who had stood with him in front of Mrs. Vesco's class.
I don't recall seeing him after Grad Night '61; but remember asking my sister if she ever saw him after she entered Stanford in 1962. Later I learned he had not taken the safe and predictable course of personal comfort, but served with the Peace Corps in South America and, most importantly to me, stayed in Brazil with those who could most benefit from his skills. Once again, I envied and admired him; investing his life in helping others learn to help themselves. I thought I should be in South America. Now I know we were both part of an effort that was larger than either of us; he working for social justice south of the border, me in that same movement in the United States.
And so, I'll always remember Todd Brem. Because Todd remembered others lived in less fortunate circumstances than what he knew and could have continued to enjoy. His life in South Pasadena could only be a dream to those in Brazilian barrios. But Todd left the comfort to help others fulfill their own dreams and he accomplished that by dedicating his own life to being a part of their lives for as long as he had life..
-Felix Gutierrez SPHS'61
************
Todd R. Brem, son of Thomas Hamilton Brem, MD and Emily Elizabath Bloss, was born July 17, 1943 in Los Angeles, California. A sociologist and educator, he was an active participant in the International Conference of Fishermen and Support Organizations, in Rome, 1984.
He met a tragic death on January 10, 1988 in Fortaleza, Ceara, Brazil, trying to save some people who were drowning. Todd was married to Raquel and they had two children, son Tomas and daughter Tihany. He was also survived by his brothers, Tom (SPHS '59) and Steve (SPHS '61).
********************************************
Todd Brem was my friend and roommate during the span of his years (1961 - 1966) at Stanford University. Although I got word of his 1988 death some years later, few details were attached. Recently a web search guided me to this SPHSAA site. I was grateful and moved by the submittal by Felix Gutierrez. My objective is to briefly flesh out Todd's bio for those years between SPHS and Peace Corps and Brazil.
Todd and I were two of about 700 males in the Stanford Freshman dorms. We were assigned to the same floor and dining hall. We bonded over shared senses of humor and love of music. He spotted The Righteous Brothers for musical genius well before they became superstars. Same goes for Simon and Garfunkel. Eventually Todd got an acoustic guitar and loved to lead hootenannies. During the junior and senior years, I joined Todd along with others in renting and living off campus. We shared cooking, transportation, and parties. Todd introduced me to my love of Mexican food, most notably chiles rellenos. One Spring Break, we spent the week in San Felipe, Baja. Todd became an English major, and took Creative Writing from then little known author Larry McMurtry, friend to Ken Kesey. We both loved an anthology course on the peoples of Mexico. As graduation loomed we both applied to, and were accepted by, the Peace Corps. Todd assigned to Brazil, I to Peru. (I changed plans, did not go.)
I last saw Todd two years later when he visited me and my wife in Berkeley. He had two years of life in Brazil behind him doing meaningful work. I felt that I was still spinning my wheels as an anthropology grad student, in comparison. (Soon after I began a 40 year career as a programmer, no regrets.) I was not surprised to hear that Todd remained in Brazil. I suspected that he had started a family; he had a strong lust for life and it would be expected. The wonderful submittal by Felix Gutierrez covering Todd's high school years squares perfectly with my assessment of this fine human being, and I miss him.
Robert Ostling, Santa Rosa, California