South Pasadena High School
Alumni Association - Classes of 1907-2019
In Memory
Douglas 'Doug' Broyles - Class Of 1966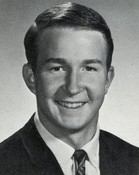 Doug Broyles '66 had a stroke and succumbed to pneumonia in February 2007.
I met Doug's son (Lawrence) at Doug's memorial service and spoke with his brother Allan Hunt. Doug had been ill off and on since 2002. He lived life to the fullest and did a lot of stage work in New York and Los Angeles. Doug loved Shakespeare and Dickens and did many "one man" shows (especially on Dickens) throughout the country.
It is an enormous loss suffered primarily by his family, but also by all of us who loved him. Doug was bigger than life and his memory will always be with us.
Gregg Shuler, '66