South Pasadena High School
Alumni Association - Classes of 1907-2020
In Memory
Barbara Louise Halsey (Keith) - Class Of 1929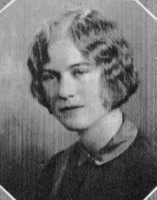 Barbara Louise Keith, age 99 (born January 28, 1912) passed away peacefully in her sleep on May 7, 2011.
Barbara earned her B.A. degree from UCLA and later, at the age of 48, earned her Masters Degree from USC. She taught in elementary schools for almost 45 years in California and Arizona before moving to Tulsa, Oklahoma to be near her youngest daughter and her family.
Barbara was an amazing woman who triumphed over many hardships. She was abruptly single again when her children were very young and World War II was escalating. Like many women of that day, she entered the work force as a secretary for the army hospital. With the help of her widowed mother, Mary Cosette Halsey, they had a home in a tiny apartment over her mother's garage. After the war, she returned to school to earn a teaching credential. She loved inspiring young children to read and write. In 1949, she met and soon married Boyd Keith, and the family moved into their first home in Sierra Madre, California. Barbara continued her teaching career after she and Boyd moved to Sedona, Arizona where they lived for 21 wonderful years.
Boyd passed away in 1991 and Barbara moved to Tulsa. In Tulsa, she was a docent for Philbrook Art Museum and belonged to several bridge groups. She also loved to play Mahjong and was a member of PEO. One of her greatest pleasures was to play the piano and organ. She was vibrant and active up until the last few years of her life. Perhaps the most exciting event in her later life was when at the age of 93, during a family trip to Hawaii, she spent 30 minutes swimming with dolphins. She had always loved and admired these magnificent creatures, and her thrill at being with them was a joy for the family members to watch.
Barbara is survived by her two daughters, Kay Graham (SPHS '59) of Tulsa, and Patricia Keith-Spiegel of Santa Cruz, California; six grandchildren, 17 great-grandchildren, and three nieces. She was predeceased by her siblings, Katherine Halsey Graham (SPHS '26) and Chester Halsey (SPHS '35).
Findagrave