South Pasadena High School
Alumni Association - Classes of 1907-2020
In Memory
Dorothy 'Dot' Wondries (Warren) - Class Of 1933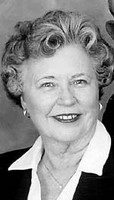 Beloved mother and grandmother and longtime Ventura County resident Dorothy "Dot" Warren passed away in the early morning hours of July 10, 2008. She was 94.
Born on February 28, 1914, Dot grew up in South Pasadena until moving to Ventura after marrying local businessman Lloyd Warren on June 10, 1937. In late 1938, they had their only child, Patricia, who would form the center of their existence for the remainder of both of their lives. Little did Dot realize that her small, close-knit family would one day grow to include six grandchildren and (so far) 13 great-grandchildren.
A lifelong homemaker, Dot's primary focus always remained upon her family. When her husband was critically injured in a 1962 automobile accident, she devoted herself to Lloyd's care and companionship until his death in 1993. During this times, she remained a dedicated mother and grandmother, always near and never missing a birthday or other significant family event. Her eagerly anticipated late morning arrival every Christmas was legendary for the joy it brought to her daughter's household.
Despite the demands of her personal life, Dot nevertheless found time to devote to various charitable and civic causes in her capacities as the president of the Academy of St. Catherine Auxiliary, president and life member of the Assistance League of Ventura County, and through her service on the Ventura County Grand Jury.
Dot was artistic by nature, and her gifts in this regard initially found expression in the daily routine of her domestic life. She won several blue ribbons at the Ventura County Fair for her creative table settings, and developed into a highly skilled seamstress. She also became a master pastry maker, delighting her six grandchildren with a steady diet of pies, cake, cookies and, best of all, her signature "disappearing brownies." In later years, under the tutelage of her good friend and noted artist Mary Michel, she successful translated her talents to the canvas as well.
Dot was beloved and will be deeply missed by her many surviving friends and family, including her daughter Patricia; grandson Thomas and children, Carlyn, Kelsey, Thomas Jr., and Paige; granddaughter, Joanne, her husband Nelson and their children Casey and Patrick Theodore; grandson Michael his wife Mary Ann and their children Dyanna and Jade; grandson Patrick, his wife Darlene and their children Abigail, Christopher and Grace; grandson Peter, his wife Caroline and their children James, Brendan and Colin; and granddaughter Erin, her husband William and their child McKinley.
Dot's family would also like to extend a heartfelt and special thanks to all of the wonderful nurses at the Ventura Convalescent Hospital who helped take such good care of Dorothy during the past four years, including, but certainly not limited to, Maria, Rebecca, Jeanne and Priscilla.
Ventura County Star, July 16, 2008