South Pasadena High School
Alumni Association - Classes of 1907-2020
In Memory
Paul Jun Ishikawa - Class Of 1953
Longtime Hermosa resident Paul Jun Ishikawa passed away peacefully at his home November 14, 2005. He was 70. Ishikawa was born March 8, 1935, in Riverside, grew up in South Pasadena and graduated from Art Center College of Design.
He made Hermosa his home beginning 1974, working as an inventor and toy designer. He loved to attend civic events and circulate about the town, and he was a well-known and liked figure in Hermosa.
He is survived by daughter Ivy Bleser, grandchildren Griffin and Lola of Santa Monica, sisters Emi Ishikawa (SPHS '61) of South Pasadena and Michi Tashjian (SPHS '55) of Philadelphia, and brother Alan Ishikawa (SPHS '54) of Redondo Beach.
Easy Reader (Hermosa Beach, California), November 24, 2005
***********************************************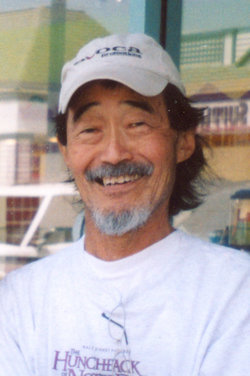 Paul the oldest child of Frank and Hisako (Yonemura) Ishikawa, was born on the family farm in Arlington, Riverside County, California. He had one brother, Alan '54 and two sisters, Michi '55 and Emi '61. When he was five, the family moved to South Pasadena. Three weeks after his 7th birthday, the family was evacuated to the Japanese Internment Camp at Gila River, Arizona. They spent the next 3 1/2 years there.
After the end of World War II, the family returned to their home in South Pasadena. Paul graduated from South Pasadena High and then the Art Center College of Design in Los Angeles. He served in the Army Reserves for six years. Paul was an inventor and toy designer.
Findagrave, April 5, 2014