South Pasadena High School
Alumni Association - Classes of 1907-2020
In Memory
Robert W "Bob" Gloyn - Class Of 1960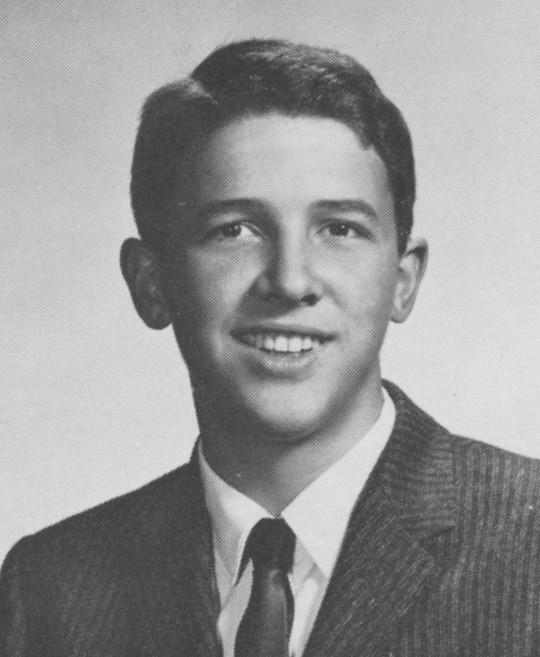 Robert Gloyn long-time metallic minerals geologist at the Utah Geological Survey, passed away September 6, 2004 following surgery. For those who knew him, he was affectionately known as Gloynnie.
Bob was born in Portland, Oregon and raised in South Pasadena, California. Bob's sister Eleanor still resides in the Pasadena area. Bob met his life-long sweetheart and companion, Ellen, while attending high school. Bob and Ellen were married in Eagle Rock, California in 1966. Bob graduated from Occidental College in 1964 and from Princeton University with an MA in geology in 1967.
Bob's career in mining and exploration took him all over the western U.S., northern Mexico, and much of Australia. Bob joined Getty Oil Company's mineral group in 1967 and worked for a short time on an exploration project in Sonora, Mexico before transferring to Getty's Petrotomics uranium mine in the Shirley Basin, Wyoming. Bob worked in ore control for most of his two and a half years at the mine and was responsible for mapping the mine's roll-front geology and compiling a complex stratigraphic cross section of the minable ore body. Bob's research and mapping gave him a unique understanding of uranium deposition and roll-front geology in the Shirley Basin. Bob's work was applauded by Getty personnel at the mine and at the corporate office in Los Angeles, and his work led to a much more efficient mining technique.
Bob transferred to Getty's exploration office in Salt Lake City in 1971 and for the following eight years he explored the western United States gaining an indepth knowledge of mineral deposits and prospects. It was during this time that Bob became familiar with the mining districts in Utah and eastern Nevada. During one of his excursions in eastern Nevada in 1974, Bob fell down a blind winze while investigating an abandoned mine and was trapped for several days before being rescued. As a result, Bob suffered an injury to his left arm that plagued him for several years. Years later, he would muse that the accident may have shortened his arm, but it certainly didn't dampen his curiosity. Bob was selected to go to Australia in September 1979 and worked in Getty's Australian office in Sydney where he spent two and a half years as senior geologic advisor conducting base and precious metals exploration in Queensland and eastern Australia. In the Perth office he was senior exploration geologist managing precious metals exploration programs in western Australia. Bob and his family returned to Getty's Salt Lake office in late 1983 and once again Bob returned to his roots in western metals explorations.
Following Getty's takeover by Texaco in 1985 and the disbanding of the minerals program, Bob consulted for several companies before joining the Utah Geological Survey in June 1988. In his early years at the Survey, Bob managed the Energy and Minerals Program as it is now called. He relinquished his managerial duties in 1997 to become senior geologist so he could concentrate his efforts on numerous mineral investigations involving state-owned lands and compiling geological and mineral production summaries on Utah's mining districts. During his 16 years at the Utah Geological Survey, Bob was senior contributor to the U.S. Geological Survey's annual mineral summary for Utah. His interest and knowledge about mineral emplacement and mineralogy of Utah's mining districts was unsurpassed.
Bob's attention to detail was officially recognized in June 2004 when he and his co-authors received the UGS' Arthur L. Crawford Award in recognition of their outstanding geologic publication on the energy and mineral resources of Carbon and Emery Counties. Bob was a long-time member of the Society of Economic Geologists; Society of Mining, Metallurgy and Exploration; Northwest Mining Association; and the Utah Geological Association.
Bob was a caring person and generous in his professional and charitable contributions. He was always recognized as a "top giver" in the State's Employees' Charitable Fund. Bob was well known and highly regarded in Utah's mining community and he leaves a legacy of fun-bridled inquiry and a penchant for detail for all of those he worked with and those who are to follow. Bob's quick wit and affable demeanor will be sorely missed by all who knew him.
Bob leaves behind his wife Ellen, and children; Sarah Miralles, Jason Gloyn, Elizabeth (Lizzie) Gloyn, and Meredith (Merry) Ashton.
1942 ~ 2004
Robert Ward Gloyn died Sept 6, 2004 in Salt Lake City, UT.
He was born November 19, 1942 in Portland, Oregon to Frances Ryan and Cyril K. Gloyn. He grew up in South Pasadena, California and attended Occidental College and Princeton University. After graduating, Bob worked for Getty Oil Company for many years, after which he held a consulting job, and presently worked for the Utah Geological Survey for over 16 years. He married Ellen Marie Iwasaki on June 10, 1966.
He is survived by his wife, Ellen; children, Sarah (Rahn) Miralles, Jason Gloyn, Elizabeth Gloyn, and Meredith (Zach) Ashton; two grandchildren and a sister, Eleanor Gloyn Siegel.
He will be dearly missed.
Salt Lake Tribune, September 9, 2004