South Pasadena High School
Alumni Association - Classes of 1907-2020
In Memory
David Neal Dickson - Class Of 1961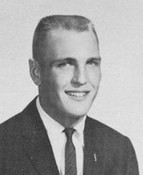 Jim Tomlin writes:
I wanted to speak [at the reunion] about Dave Dickson, but it seems I'm still uncomfortable speaking in front of my classmates, like some oral report I flunked in the 6th grade even though I have been a graduation speaker several times and this year was the speaker for the Newport All City sports breakfast...... go figure.
Anyway.
Dave was in so many ways the best of us. Although we never "hung out" much, we were friends since 5th grade summer camp. I never spent time with him that I didn't feel included, and I never saw or heard him denigrate anyone, ever. As 8th graders we both discovered if you joined the "sports club" you in effect got two PE classes. Can't think of a downside to that. Since we both had last period PE, and the sports club was the last period of the day, between that last period and when sports club started there was a 20 minute shower/change time when we played 1 on 1 basketball. Since Dave was 5'9" and I was 5'3" and about half the athlete he was, he fashioned some unspoken, informal rules that allowed the contests to be competitive.
Dave would never break these rules even to win. One day the game was close and went into "overtime." Sports club guys were dressed and coming into the gym to watch. Incredibly I sunk a shot that won the game, and quickly several students began to give Dave a hard time.
How could you lose to that guy?
Possible answers.
"I didn't play my hardest." True
"It's just for fun, I never shoot lay-ups." True
"He just hit one lucky shot." Mostly true
Dave's answer.
He played really well today."
I think that speaks volumes about the Dave Dickson I knew. Dave was our ASB President and all everything athlete. We were discussing the insecurities of youth we all felt over the phone about six years ago. Young adults are fragile; I have worked with them for 41 years. I said that he had always projected certainty and confidence, and he replied that it was a certainty and confidence he hadn't felt. He told me how he felt those same insecurities. I said if HE didn't feel certainty and confidence, then who among us did?

He said that's the point. And yet he never tried to raise himself by pulling someone else down, a life well lived.
******
David Dickson '61 former Executive Vice President and member of the Board of Directors of the Carnation Company, died peacefully on September 23, 2002 at his home in Austin, Minnesota; his beloved wife of 37 years, Joanne, at his side.
David was born on March 5, 1943 in Kansas City, Missouri, and grew up in the Pasadena area. He graduated from South Pasadena High School in 1961 where he quarterbacked his team to a CIF championship and served as his school's Commissioner General.
After earning his BA and MBA degrees from Stanford University where he pitched for the Indians' varsity baseball team, David joined the Carnation Company and was assigned to its instant products division. In recognition of his innovative leadership in the development of new products, he was named to Carnation's Board of Directors in 1979. In 1989, after a 19-year career in Los Angeles, David moved to Austin, Minnesota where he joined Hormel Foods as its Senior Vice President of Strategic Planning and Corporate Development. One year later, he was promoted to Group Vice President of the International and Corporate Development Group and elected to Hormel's Board of Directors and its Executive Committee. During David's 11-year career with Hormel, he served on the boards of several Hormel subsidiaries and joint venture partners including Beijing Hormel Foods Co., Shanghai Hormel Foods Co., and Campofrio Spain. He retired from Hormel in June 2001.
Upon retirement, David said he wanted to continue traveling and spend time with his friends and family. While his 10-month illness cut short his post-retirement plans, he celebrated the marriage of his daughter, Cass, completed an extensive home remodeling effort, created an endowment for the support of athletics and extracurricular needs at his high school alma mater, and, the Saturday before he passed away, he enjoyed his much-celebrated Battle of the Barbecues.
In addition to his wife Joanne, David is survived by his son, Jeffrey A. Dickson, of Glen Ellyn, Illinois, two grandchildren, Garrett and Paige Dickson, his daughter Cassandra Stajduhar, of Lincoln, Nebraska, and his sister, Nancy Chamberlain of Fallbrook, California.