South Pasadena High School
Alumni Association - Classes of 1907-2020
In Memory
John Wilbert LaPointe - Class Of 1961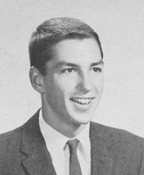 "Following graduation, John attended U.C.S.B. and was a member of Sigma Phi Epsilon. He completed his degree at L.A. State and Officers Training at the University of Southern California. In 1968 he finished Pilot Training at Williams Air Force Base in Arizona. A week later he married Melanie Atkinson (class of '62) in Newport Beach and they were blessed with one daughter, Hillary, in 1972.
"John trained pilots in the T-37 & T-38 for two years at Willie Air Patch in Arizona. He volunteered to go to Southeast Asia and new F-4s out of Udorn Air Force Base in Thailand. Upon returning to the States he was a night instructor at Hollaman Air Force Base in New Mexico in the Fighter Lead-In Program. After 17 months at Hollaman John was selected to fly for the United States Air Force Demonstration Team ''Thunderbirds'' for the 1976-77 seasons. He flew on the Bi-Centennial Team in 1976. They flew more air shows than any flying team had ever flown before.
"In 1978 John and Melanie moved to Egling Air Force Base in Ft. Walton Beach, Florida. John was one of the first pilots chosen to transition to the F-15 Eagle. In l983 he was assigned to the Inspector General's Team at Norton Air Force Base in California. After two years they were relocated to Bitburg Air Force Base, Germany, where he flew the F-15 again.
"One of John's proudest moments was planning and leading an l8-plane multi-national fly-by for Helmet Kohl and President Reagan. After four years in Germany they relocated to Willie Air Patch. John was the Assistant Deputy of Operations. He was elected for Full Colonel.
"John retired after serving his country for 21 years and shortly thereafter was hired by the Honeywell Corporation in Phoenix as a Chief Pilot and Manager of Customer Flight Operations/Pilot Training Customer & Product Support. He traveled extensively to Asia, Europe and South America training airline pilots. He worked at Honeywell for 18 years.
"John and Melanie built their dream home five years ago in Chandler, Arizona. Sadly, John died of a massive heart attack on April 5th after being the first car rear-ended in a five-car
accident March 24th. John is survived by loving wife of 38 years; a daughter, Hillary; son-in-law, John Gurley; and the two ''lights
of his life grand-boys'' Will (John William) age three and Scotty (Scott Robert) age 19 months."