South Pasadena High School
Alumni Association - Classes of 1907-2020
In Memory
Skeeter Malone - Class Of 1961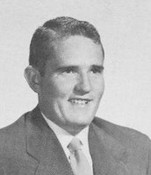 Skeeter Newton Malone, 62, of Syracuse, died Saturday, March 5, 2005 from injuries he suffered while loading a tractor onto a truck at the Kendall Co-op.
Born Feb. 27, 1943, in Raton, N.M., to Clyde Newton and Gladys Mona May Malone, he attended school in South Pasadena, Calif.
A Syracuse resident since 1983, Mr. Malone was an employee of Tarbet Construction Co. Inc. He was a member of the Syracuse Saddle Club, the United States Team Roping championships and the Original Team Roping Association, and had served in the Marine Corps Reserves. He enjoyed watching high school and college sports, dancing and playing cards.
On Feb. 14, 2001, he married Lucille "Lu" McDermott. She survives with eight children, James I. Malone of Des Moines, N.M., Jess T. Todd of Washington, D.C., Samantha A. Todd of Seattle, Dakota McDermott and Richard Meredith, both of Syracuse, D.J. Meredith of Dodge City, Bill Mehl of Ellsworth, and Mike Mehl of Scott City; his siblings, Larry Malone of Pleasanton, Calif., Jim Malone of Boise City, Okla., Clyde Malone of Hermiston, Ore., Ted and Ray Neal, both of Ulysses, Edna May Hixon of Maryland, Oma Jean Westerman of Wichita; 16 grandchildren; and numerous nieces and nephews. He was preceded in death by his parents; a sister, Mona Jean Malone; and a brother, Jim Neal.