South Pasadena High School
Alumni Association - Classes of 1907-2020
In Memory
Deanna Maria Miller (Pettitt) - Class Of 1961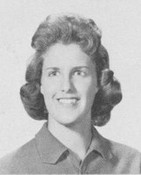 Deanna was born September 9, 1943, weighing a robust 2 pounds 11 ounces. She survived her small size, eye surgery, open-heart surgery and a body cast for nine months.

She graduated from PCC with an AA and an LVN. In 1963 she married Steve Weston. In 1970 her only child, Steve was born. Clarence and Deanna were married in 1978. Deanna's only grandchild, Grant, was born in 1994.

Deanna has lived in Rhode Island and Georgia, besides South Pasadena. She's traveled in England and has cruised the Caribbean. Family reunions and friends— across the United States—were here favorite things. She attended the Tuesday night prayer meetings at her church faithfully.

She has requested that memorial gifts be made to the American Diabetes Association or the American Cancer Society.
Pasadena Star-News (CA) - January 6, 2006
Deanna Maria (Miller) Pettitt, died December 30, 2005. She was born September 20, 1943 in Santa Monica, Ca. and was raised in L.A./South Pasadena. Deanna attended South Pasadena High School and graduated in 1961, then attended Pasadena City College where she was enrolled in the LVN program then graduating with her A.A. degree in 1963. Deanna is survived by her mother Marion Miller, her husband, Clarence Pettitt, her Son Stephen Weston, her Grandson, Grant (11), and her step Grand daughter, Krystal (18).Services are to be held Saturday, January 7, 2006 at 2 pm at Lake Ave. Congregational Church in Pasadena in the Rose Room.