South Pasadena High School
Alumni Association - Classes of 1907-2020
In Memory
Nancy Parsons (Hipwell) - Class Of 1961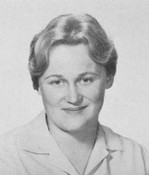 "Nancy Parsons, was born in Lake Minnetonka, Minnesota to Mary and Charles Parsons. She had two siblings - Mary Parsons, and Theresa Macrae. When she was seventeen, her father remarried Genevieve Stack, and moved with the three girls to South Pasadena, California. It was here that the acting bug first bit, when she appeared in the senior play and was subsequently given a full scholarship to the famed Pasadena Playhouse; 1960-1962. In her two years there, she appeared in some of the great works of Albee, Odets, Williams, Chekhov, Shakespeare, etc... Nancy married Alan Hipwell immediately after graduation, and gave birth to Elizabeth Hipwell, on November 3, 1964, and to Margaret Hipwell, on October 7, 1969.
"She returned to acting after divorcing her husband. While at UCLA, completing a theatre degree, she won the Hugh O'Brien Award; an event which launched her career. This award drew her to her lifelong friend and agent Susan Smith. Throughout her career she garnered a Family Film Award for Best Actress in Porky's Revenge (1985), an Academy of Science Fiction & Fantasy nomination for Best Supporting Actress in Motel Hell (1980), a Dramalogue Award for the play, 'Dead End At Sunset', and a woman of the year award from the Alumni Association of her alma mater, The Pasadena Playhouse.
"These are all her career achievements, but we would say the greatest legacy she has left us is the ability to live passionately, as individuals. Nancy always believed that art was the noblest of paths one could follow - that it took an immense amount of courage, stamina and hootspa (one of her favorite words).
"Nancy is survived by Margot Hipwell and her children Cassidy Coulson, and Jasper Coulson, and me, Elizabeth Hipwell. Thank you Mom! You will never be forgotten!"