South Pasadena High School
Alumni Association - Classes of 1907-2020
In Memory
Stephen A "Buzzy" Ware - Class Of 1961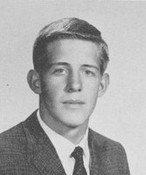 Stephen Arnold (Buzzy) Ware died September 3, 2006, in San Gabriel, California, of natural causes. He was 63.
He was the son of the late Arnold G. Ware and Freda C. Ware. After graduating from South Pasadena High School and the University of Colorado, he received a law degree from the University of Southern California in 1968.
He built a successful law practice in Aspen, Colorado. He married Pamela Craven of Boulder in 1975. A tragic motorcycle accident in 1977 left his wife dead and him severely injured on the shale bluffs in Aspen, Colorado.
Stephen never totally recovered from his injuries or the loss of his beloved wife. He lived and practiced law in Denver and Boulder for several years before returning to Southern California to retire where he did pro-bono work, wrote novels and continued his lifelong fascination with fiction.
He was known for his successful representation of clients with substantial financial means and those without. He was a colorful character who was loved by many close and loyal friends. Although his injuries were deep both physically and emotionally, his generosity and the goodness of his heart were constant. With his inimitable style he faced nearly 30 years of disability with good humor and no complaints, gaining many new friendships.
Stephen is survived by his mother of Alhambra, California, his mother-in-law Cory Craven of Boulder, Colorado, brother Randolph (Stick) Ware and his wife Maria J. Aragon of Boulder, sister Mary Ann Ware and her husband William Donnelly of Portland, Oregon, his nephews Davis A. Ware and step nephew R. Webber Engles, his nieces Marisa A. Ware, Erin Donnelly and Kira Donnelly, numerous aunts, uncles and cousins living primarily in Illinois and California, and Ellen, Tony, Michael, John, Paul, Dan and Pat Craven, his sister and brothers in-law.
He will be missed by many friends and acquaintances whose lives he touched. Buzzy was one of a kind.
A memorial gathering [took place] on 23 Sep 2006 starting at 3-6 pm at the Rockies Brewing Company in Boulder, Colorado.
Donations will be accepted in Stephen's name for the benefit of the Central City Concern (CCC), a Portland, Oregon, nonprofit that serves those suffering from substance abuse, poverty and disability. Mary Ann Ware serves on the board of CCC."
From Jeff Milham ('59), following the memorial event for Steve in Boulder:
"The weekend was remarkable. Randy hosted the event at the Boulder Beer brewery, also celebrating its 25th anniversary, with drinks and snacks for the two hundred plus that arrived to pay their respects. This was the only event that would bring this group of folks together in one place at one time. From a practical standpoint, I was the outsider with the exception of the family. The rest were social and professional people Buzzy had lived or worked with for most of the years he was in school in Boulder or living and working in Aspen. The gathering was addressed by Randy, myself and a fellow who read a poem that was a metaphor of Buzzy's life. I contributed stories and history from the neighborhood and school. To hear these people fill in the blanks was amazing. It's really a shame Buzz couldn't complete the great American novel about Boulder life like Hunter Thompson did about Aspen life. They were good friends and nearly just as crazy. From three pm until almost eight every one was telling stories and anecdotes and laughing throughout the afternoon comparing notes and one-upping one another.
Exhausted and hungry we all broke into small groups and went downtown to seek solace and sustenance in the favorite and appropriate dinner house of choice. Boulder is still a college town so Sat. night is wide open 'til late. They knew the town and many of the old places were still thriving. I was with sister MaryAnn and her husband Bill and daughter and two former lady friends Bonnie and Susan. We had a quiet evening but heard Sunday that the some of the others got a little wild......predictably !
Buzzy would have approved!!"