South Pasadena High School
Alumni Association - Classes of 1907-2020
In Memory
Randall C Phair - Class Of 1967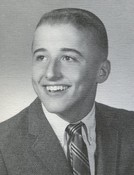 Randall "Randy" Phair passed away February 21, 1995 in Springfield, Missouri. He was away on a business trip.
Randy took the familiar road from Lincoln Elementary to the Junior High to the High School. From there he went on to the University of the Pacific and was a member of SAE. He was involved in numerous activities such as Cub Scouts, YMCA, Little League, Middle League, and American Legion baseball. While in high school he played football and basketball, being named Christian athlete of the year in 1967.
He and his wife Victoria have lived in Yorba Linda for a number of years where Randy was President of his own company. Randy came from a family of Tigers. His mother, Mary Ida '38, father Bob '37, and brother Rob '63 are all alums.