South Pasadena High School
Alumni Association - Classes of 1907-2020
In Memory
Walter Pierce Chase III - Class Of 1968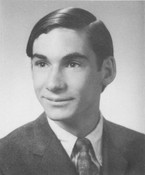 Many parents have wished or prayed to take the place of their seriously ill children, and musician Walter Chase was no different. His first-born son, Wally, wasn't even a year old when he was diagnosed with liver cancer. To everyone's amazement, the baby's cancer went into remission.
It defied logical explanation, said his family and friends, but in April 2006, Walter Chase was diagnosed with colon cancer that doctors said he might have had silently for 10 years. Last May his son, Walter "Wally" Pierce Chase IV, 23, graduated from Colorado State University. January 20, 2008, Walter Chase, age 57, died peacefully. The cancer had spread from his colon to his liver and lungs.
"He was an awesome, awesome man," said Vicky, his wife of 23 years. Her words were echoed by local musicians who have known the bass player and jammed with him for years. Over the years, the musicians were there when Chase put together numerous benefits to raise money for anyone who needed help, from the Ronald Mc-Donald House, which had been home to his family when his son was ill, to critically ill musicians and a club owner with a brain aneurysm. He was particularly drawn to cancer charities, Vicky said.
Chuck Snow of the band Autono met Chase, "when he was in the band Ricky and the Realtors with Red Noize, Chris Cain and Dave Deason back in the early '80s. They were one of the few (if only) bands playing cool music like The Jam and Joe Jackson. They were a major inspiration to me to play the kind of music I like instead of the usual icky classic rock. RIP Walter."
Chase played in the Bijou Street Blues Band, Mike Nelson and the Motel Kings and The Joanne Taylor Rhythm and Blues Revue, among others. Billed on blues nights at Hillside Gardens were: "Smokin' Joe, Magic Dave and Walter Chase."
Mike Nelson had played with Chase for 15 years, part of the original lineup for the Motel Kings and as a duo and part of a trio.
"In spite of the cancer, he did a good job of keeping it going for a long time," Nelson said.
Then, one night about six months ago at Meadow Muffins, they'd played only a set when Chase told him, "I'm done, Mike."
His bass hand, crippled with neuropathy because of the chemo, hurt too much. He couldn't go to the clubs anymore, so the bands went to him.
"All the local musicians would crowd into the living room and play for him. The guys with the Bijou Street Blues Band were here," Vicky said.
As he became more ill, they squeezed into the bedroom to play.
The house has been filled with musicians and family, said his wife. Besides son Wally, 23, he's survived by Wessley, Brooklyn and Dustin Gosnell.
The Gazette, January 22, 2008
May 8, 1950-January 20, 2008. Walter Pierce Chase III died at home in Colorado Springs. He was born May 8th, 1950 in South Pasadena, California. He was a musician and a real estate agent. He is survived by his wife Vicky; sons Dustin, Walter IV and Wessley; daughter, Brooklyn; a sister Louise Wynn (SPHS '61); and grandchildren, K.T., Lillie and Leylah.
The Gazette, January 23, 2008