South Pasadena High School
Alumni Association - Classes of 1907-2020
In Memory
Susan Warren Converse (Petrillo) - Class Of 1968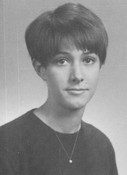 Susan Warren Converse, 52, daughter-in-law of a Bennington, New York, couple, died October 28, 2002, at home in Salem, Oregon after a long battle with cancer.
Ms. Converse was born in San Gabriel, California, April 18, 1950, and grew up in South Pasadena, California. She graduated in 1968 as valedictorian from South Pasadena High School and earned a degree in art history from Occidental College in California in 1972.
In 1979, she married Sam Petrillo, son of Anthony J. and Evedne Petrillo of Bennington, N.Y., in Boise, Idaho.
She worked for 25 years as an elementary school teacher. She taught in California, Idaho and later at Sumpter and Pringle Elementary schools in Salem, Oregon.
Her creative approach to teaching instilled children with joy and a love for learning. She was also an accomplished pianist and artist, enjoyed skiing, hiking, photography and travel, and volunteered her talents for many charitable activities.
She was diagnosed with cancer in September of 2000, but continued to share her optimism and love for life with all who knew her.
Surviving with her husband and his parents are a son, Thomas, a sophomore at Brown University in Rhode Island, and a daughter, Kristen, a junior at Sprague High School in Salem.
The Daily News (Batavia, New York), November 19, 2002