South Pasadena High School
Alumni Association - Classes of 1907-2020
In Memory
Sue Ju Kim (Hanson) - Class Of 1984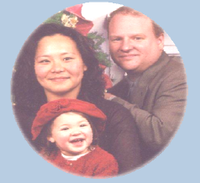 Sue Ju Kim Hanson '84
South Pasadena - High school reunions can be a bittersweet mixture of adolescent memories and rekindled friendships, when alumni can't help but take stock of their lives and size up how their peers have fared as adults. The inevitable somber note comes when classmates remember those who have died.
When South Pasadena High School's Class of 1984 gathered for its 20th reunion on August 7, 2004, members toured a campus that's been almost completely rebuilt since their era. They celebrated with dinner and dancing at the Masonic Lodge in Pasadena. They also dedicated a tribute to classmate Sue Kim Hanson, about a month before the nation remembers almost 3,000 like her; victims of the September 11, 2001 terrorist attacks.
Sue, 35, was flying from Boston to Los Angeles with her husband, Peter, and their 2-year-old daughter, Christine. The Groton, Massachusetts couple planned a trip to Disneyland and to visit Sue's 83-year-old grandmother, who raised her and her brothers after their parents died.
Sue, Peter, and Christine perished aboard United Airlines Flight 175, the second airplane that struck the World Trade Center, crashing into the South Tower.
In Sue's honor, her classmates - with the school's permission - created a tribute in the Tiger Patio on campus. Two benches will be installed, a camphor tree has been planted, and a bronze plaque will bear the Korean symbol of life, a nod to Sue Kim Hanson's Korean heritage, said Andy Groeneveld '84, who was one of the reunion organizers. The labor and materials were donated by Tim Ryan Construction, a Monrovia firm. The owner, Tim Ryan, '86.
Two of Hanson's best friends, Beatrice Fong John and Annie Wyatt Moore, remembered her on Friday during a reunion-sponsored golf tournament. "We weren't part of the popular crowd. There were four of us. We used to call ourselves The Fearsome Foursome," recalled Beatrice, who now lives in Villa Park. Sue, Beatrice, and Annie stayed in touch after high school.
Sue earned her bachelor's degree at UC Berkeley and a master's degree at Boston University, where she also was working on her doctorate. "Sue lived in Boston, so we went out and visited her a couple of time," Beatrice said. "Sue always dated real GQ! looking guys...but Pete was a Deadhead with dreadlocks" Beatrice said. "He cut them off for Sue." Annie remembers her "energetic, vivacious" friend, a straight-A student with "the biggest smile." She attended the couple's wedding. "He was so wonderful to her," said Beatrice, who lives in Venice.
The Hansons' vacation also was to include visits with Sue's two high school pals. "That morning, I was driving...and I heard about the planes," Beatrice said. She called her husband and Annie, wondering if it could be Hanson's flight. "I said: 'Annie, one of the planes is from Boston. Do you know the flight number for Sue?" Then Annie spoke to Peter Hanson's father, who confirmed the worst. "Pete was one of the people who called (loved ones) from the airplane," Beatrice said.
Peter Hanson's parents, who live in Massachusetts, established a Web site, www.petehansonandfamily.com that says 2 1/2-year-old Christine was the youngest victim of the September 11th attacks. "Peter, I still feel the terrible pain that went through my whole being when Dad, holding the phone, heard your last words," Eunice Hanson wrote on the Internet tribute. "The thought of the three of you in each other's arms in that final moment will never leave me. I have been told that there could not have been any pain, but you knew what was happening," Eunice Hanson wrote.
Boston University posthumously awarded Sue Kim Hanson her Ph.D. in pathology. Through research with laboratory mice, she had been studying a gene possibly linked to asthma and AIDS.
The Hansons donated a commemorative American flag, bearing the names of all the September 11 victims, to Pete's high school and will do the same for South Pasadena High School, Janet Anderson and Beatrice said.
The preceding article was based on a Pasadena Star News story written by Mary Bender.
************
**********
SPHS Graduate Sue Kim Hanson and Family Memorialized on September 11
Sue Kim Hanson, SPHS 1984, and her family, will be memorialized by South Pasadena Mayor Mike Ten (SPHS 1975) on Sunday, September 11, 2011, at 8:30 a.m., in the City Hall Courtyard at the City of South Pasadena, 1414 Mission Street. Mayor Ten will dedicate a plaque in their honor on the 10th anniversary of the terrorist attacks on the United States, at the exact time the attacks took place. Andy Groeneveld (SPHS 1984), Sue's classmate, will present a bronze plaque to the South Pasadena High School from the 1984 Class that bears the Korean symbol of life.
Sue Kim Hanson, her husband Peter Hanson, and their 2 ½ -year-old daughter Christine lost their lives during the attacks on the World Trade Center on September 11, 2001, while aboard United Airlines Flight 175 en route to Los Angeles from Boston to visit Sue's 83-year-old grandmother and to go to Disneyland. Theirs was the second plane to hit the World Trade Center that morning. Christine was the youngest victim of the 9/11 attacks.
Sue and her family were living in Groton, outside of Boston, at the time. Following graduation from SPHS, Sue attended UC Berkeley, where she earned a B.A. in biology and psychology. She worked for Cetus Corporation and then moved to Boston, where she earned an M.A. in Medical Sciences from Boston University. At the time of her death, she was working at the Boston University School of Medicine and pursuing a Ph.D. on a full scholarship. She had completed her dissertation and was preparing for her oral examination. Posthumously, Sue was awarded a Ph.D. in immunology and pathology. In her memory, an annual lecture in immunology was established in her name at the university, which takes place every September 11th. Outstanding researchers in the field of immunology are invited to speak and meet with graduate students and faculty. In 2005, the scientist invited to deliver the lecture was a Nobel Laureate.
Peter Hanson, her husband, from Easton, Connecticut, was Vice President, TimeTrade, a software company. He earned a degree in English at Northeastern University and an M.B.A. from Boston University. He called his father twice from the airplane, the last call coming just before the airplane hit the building.
Born in the United States, Sue spent the first five years of her life with her grandmother in Korea. Her mother died when she was 15, and Sue lived with her grandmother while attending school in South Pasadena. She leaves two younger brothers, Stanley Kim (SPHS 1986), of San Diego, and John Kim (SPHS 1990), of Hawaii.
Each September 11th, the City of South Pasadena has conducted a 9/11 service in the Courtyard of City Hall to remember those who lost their lives, to honor those who survived, and to recognize the public safety personnel who dedicated their lives to protecting others at the time and continuing on today. Sue has been remembered during many of those services over the past decade by City officials and by classmates who attended the service.