South Pasadena High School
Alumni Association - Classes of 1907-2020
In Memory
Winston Trever - Class Of 1929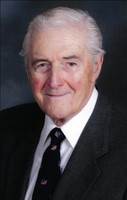 The Reverend Dr. Winston Trever, age 99, passed away February 7, 2012, in Lake Forest, California. Reverend Trever is survived by his children, Norman, Carolyn, and George; 10 grandchildren; and eight great-grandchildren. Winston was preceded in death by his wife, Lois Trever, in 2005.
Winston was a graduate of the University of Southern California and Yale Divinity School. He received an honorary doctor's degree from the University of the Pacific. Winston led churches in Jerome, Arizona, Azusa, California, Boulder City, Nevada, and Burbank, California. While in Burbank, he led the construction of the Burbank First United Methodist Church. Following his tenure in Burbank, Winston accepted an appointment at the Wilshire UMC in Los Angeles. As an avid photographer, Winston presented many slide shows from his travels to the Holy Land, Korea, and Borneo, and his "backyard zoo." He brought the world to Wilshire.
In 1959, his next appointment was at the fast growing Fullerton UMC in Fullerton, California. But after only one year, Winston accepted an appointment to the Mt. Lebanon UMC in Pittsburgh. There Winston served for 18 years before retiring. He served on several Methodist Conference Boards including Missions and was instrumental in helping develop the minister's pension program. Although officially retired, he continued to minister as an assistant to churches in Pacific Grove, California and Laguna Woods, CA. He continued to minister to residents of Freedom Village, Lake Forest and delivered a monthly telephone devotional to the very end; God has called his servant home for final retirement.
Las Vegas Review-Journal, February 18, 2012