South Pasadena High School
Alumni Association - Classes of 1907-2020
In Memory
Harry Ross Bolton - Class Of 1934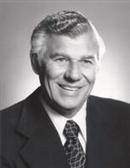 Harry 'Ross' Bolton, passed away at the age of 97 on March 11, 2015. Ross was born in Sunnyside, Washington to Maud and Harry (Ben) Bolton on June 13, 1917. His father was a civil engineer and the family moved frequently. Most of his early life was spent in California where he graduated from South Pasadena High School. Ross attended UCLA for two years where he played basketball and was a member of Alpha Tau Omega fraternity. He graduated from the University of California at Berkeley in 1938 with a BS degree in Civil Engineering.
Ross went on to have a successful career in the oil business both in Houston, Texas and Tulsa, Oklahoma, retiring as Vice President of Exploration and Production with Texas City Refining in 1982. He continued his involvement in the oil business until his death. In 2001, Ross moved back to Tulsa to be closer to family. He enjoyed his many friends and dutifully called bingo for many years. He loved to swim and went to the YMCA three days a week to join his buddies there.
In addition to his wife, Ruth, Ross was preceded in death by his parents; a brother, George (SPHS '37); and a son, William. He is survived by his daughter, Barbara Hilton; three grandchildren; seven great-grandchildren; and six great-great-grandchildren.
Houston Chronicle, March 15, 2015