South Pasadena High School
Alumni Association - Classes of 1907-2020
In Memory
Elsie Jane Burkett (Plumb) - Class Of 1935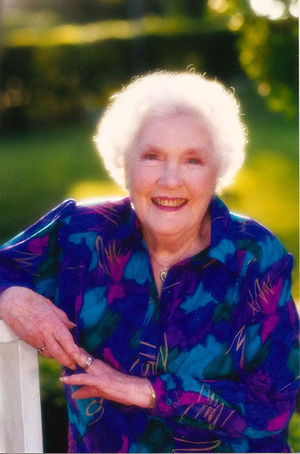 Elsie Jane Burkett Plumb, mother, grandmother, great grandmother, teacher, friend, volunteer extraordinaire, passed away March 15, 2017, just three months shy of turning 100. A native Californian who grew up in South Pasadena, Elsie Jane moved to Coronado in the summer of 1946 from Ann Arbor, Michigan, with her husband Bob and two children and another one on the way. Dr. Bob set up his urology practice in San Diego and two more children were added.
Raising her children and being a helpmate to her husband took up most of her time. She was a homeroom mother and classroom volunteer many times over for each of her children, taught Sunday School, becoming the superintendent of schools for St Paul's Methodist Church for several years and served as a Cub Scout den mother. She and her husband were the children's biggest fans. There were dance recitals, plays, football, basketball, and baseball games and wrestling matches to attend. Philanthropic Education Organization was a mainstay in her life for more than 72 years. The first chapter in Coronado organized in her home in 1949. She served as chapter president two different times as well as all the offices except treasurer, that would have been a disaster, she'd say. She also was president of the San Diego Reciprocity. She did manage to be involved with other groups: Kappa Alpha Theta rush adviser at San Diego State University, San Diego Medical Society Auxiliary, and founding member and early president of the Trojan League of San Diego.
Elsie Jane was the second child of Russel and Lora Burkett. She was a tomboy as a child playing a variety of sports including stickball in the streets near her home. After graduating from South Pasadena High, she went to the University of Southern California where she became a member of Kappa Alpha Theta. She transferred to the University of Michigan her junior year, earning a bachelors degree in 1940, the same year her fiance graduated from the U of M School of Medicine.
After marriage in 1941, she spent five years in Ann Arbor, Michigan while her husband completed his residency. All set to begin a practice in Michigan, Dr Bob changed those plans after taking a post-grad course in Los Angeles in January 1946. He left Michigan in a snowstorm and arrived to sunny, warm weather. After a visit to see friends in San Diego, he returned to inform his wife that he'd bought a practice in that town. So the native Californian returned to complete her life. They went back to Michigan each summer so his parents could see the family grow up.
She is survived by her five children, Paul, Martha, Margaret, Bob, and Jim, all of Coronado, 11 grandchildren, and 12 great-grandchildren as well as her brother Russel Burkett (SPHS '40) of LaCosta and many nieces and nephews. She was predeceased by her husband in 1993.
Coronado Island News, April 6, 2017