South Pasadena High School
Alumni Association - Classes of 1907-2020
In Memory
Martha Thomas Gaines (Stoebe) - Class Of 1932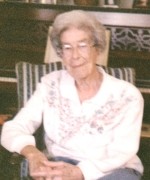 Martha Gaines Stoebe (February 8, 1915 - June 14, 2003) was born to the Gaines family in Pasadena in 1915. She attended Polytechnic Elementary School, South Pasadena High School, and then Pomona College, where she met her husband, Wallace Stoebe. She graduated in 1936, Wallace in 1934. They married and moved to Alta Loma, California to purchase a 10 acre citrus ranch. They lived in a Sears catalogue house that had been built at a prior location and then moved to Beryl and 19th Street.
Martha took her first elementary school teaching job in Rialto. She initially did not like to teach, but later came to love it, after putting in 24 years. Her ture love was writing and history. She wrote The History of Alta Loma and The History of the Methodist Church. Martha and Wallace sold their citrus acres in 1957 and moved to San Bernadino.
Wallace and Martha loved to dance so that was their main form of recreation. Martha enjoyed tennis and taught it at the local schools. She also played the organ. Wallace and Martha had three children; two sons and a daughter.
Rancho Cucamonga website