South Pasadena High School
Alumni Association - Classes of 1907-2019
In Memory
Constantine 'Con' Gertmenian - Class Of 1933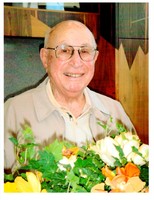 With love and sadness, the family of Constantine Gertmenian mourns his passing on September 19, 2014 at the age of 98.
Born in 1916 in Binghamton, New York, the eighth and last child of Gostantin and Christina Gertmenian, Con moved to South Pasadena with his family in 1918 and resided there until 2012. He attended El Centro Grammar School, South Pasadena Junior High and High School. He was a Tiger cheerleader and continued attending SPHS reunions until he was past 90. Upon graduation from high school, Con attended Stanford University, graduating Cum Laude, and he was elected to Phi Beta Kappa. He also received a Second Lieutenant's commission from the ROTC. He then matriculated to Oxford University where he read history at Wadham College, and later earned a master's degree in history from Harvard University.
When the United States entered World War II, Con was called to active duty in the army. For several years he was stationed in Alaska and the Aleutian Islands, and then received orders to attend the Civil Affairs/Military Government school in Battle Creek, Michigan. While there he became engaged to Doris Nahigian, whom he had met at the wedding of his sister Virginia (SPHS '28) to Doris's brother, Diran Nahigian. They were married on March 25, 1944. Two months later he was sent to Germany where he served as Military Governor of Fussen. When World War II ended, he returned home with the rank of Major, finally retiring from the Army Reserves after 22 years of service with the rank of Lieutenant Colonel.
Con and Doris returned to South Pasadena in 1946 and Con entered the family business, G.A. Gertmenian & Sons, a wholesaler of oriental rugs. He retired in 1986, devoting himself to his family, to Oneonta Congregational Church, where he was a member for more than 60 years, and to civic organizations including the South Pasadena Library, South Pasadena Beautiful, and the Gamble House. He golfed three times a week at Brookside Golf Club until he was nearly ninety.
Con is remembered as a man of dignity and intelligence, who selflessly honored his responsibilities to family, community, and country throughout his life. He is survived by his children James (SPHS '65) and Carol (SPHS '67) and their spouses Susan King and Roy Doumani; his granddaughters, Enid Gertmenian and Emily Gertmenian Callahan, Emily husband Brendan Callahan, and their two children, Liam and Camille.
South Pasadena Review, September 25, 2014