South Pasadena High School
Alumni Association - Classes of 1907-2020
In Memory
Jeanne Eileen Law (Jacobson) - Class Of 1934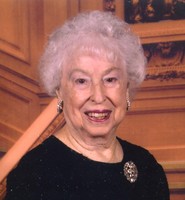 Jeanne Law Jacobson passed away on June 13, 2013. She was 96 years old. "Jeanne" as she was called is survived by her children, the "twins" Bill Jacobson and Judy Howard (both Class of '58) and, their spouses: Donna Jacobson and Rance Howard. There are also four grandchildren: Andrea Roess, Alison Canchola, Eric Jacobson, and Emily Maze. And, eight great-grandchildren, Grant Roess, Andrew Jacobson, Zachary Jacobson, Christopher Canchola, Thomas Canchola, Natalie Canchola, Ethan Maze, and Jacob Maze. Several law nieces and nephews and second cousins are also close by.
Although Jeanne traveled the world, she lived most of her life in South Pasadena. Her father William R Law, an attorney of some renown, moved his family there from Los Angeles during the 1920s, buying a large California Craftsman style home on Ramona Avenue. Jeanne, Class of '34 and her siblings Richard "John" Law, Class of '32, and Roberta Creed, Class of '39, attended Oneonta, South Pasadena Junior High and South Pasadena High School where their uncle James, "Mr. Carpenter," spent years teaching math.
At UCLA Jeanne pledged Pi Beta Phi and majored in art becoming a noted water colorist. She continued to paint most of her life--her paintings proved popular at local art galleries and as wedding gifts. After graduating the university with a BA degree and teaching credential, Jeanne married Phi Delt football star Don Jacobson "Jake"--who according to the 1932 "Southern Campus" was known as "The Wildman of Westwood."
Next came World War II and Jeanne managed to make a home for her officer husband and the children wherever he was sent that allowed families to come along. But, she was always very happy to return with Jake and the twins to South Pasadena, finally settling down on Oak Street. At this time she started an interior decorating business which was very successful. When the twins went off to college she and "Jake" moved to San Marino for their last years together. Jeanne lived there alone a good while before moving into Marguerite Gardens, formerly a planned senior facility for PEO members.
Elegant and well-mannered to the end, Jeanne maintained an active life--she never missed a bridge game, liked to win and kept on traveling and painting until she no longer could. Jeanne credited her good fortune to the values of the community she loved and the fact that she was surrounded by life-long friends and relatives who loved her as she loved them.
Judy Jacobson Howard '58, daughter