South Pasadena High School
Alumni Association - Classes of 1907-2020
In Memory
Betty Lawton (Hunt) - Class Of 1935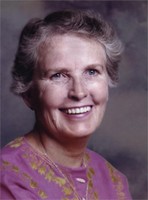 Betty Lawton Paddock Hunt, 82, a director of women's banking services for West Side State Bank, died January 10, 1999 at a Houston hospital.
Betty Taliaferro Lawton Hunt (formerly Paddock) was born in Berkeley, California on December 31, 1916, the daughter of Oswald Lawton and Claudia Massie. She attended Mills College and the University of Southern California. In 1937 she married Burton B. Paddock of Fort Worth, Texas. She rapidly became a significant leader in the community, serving as president of the Junior League of Fort Worth, the League of Women Voters, the Texas Association of Hospital Auxiliaries, The Monday Book Club, Tarrant County Republican Party, and the Kappa Alpha Theta Alumnae. They had three children.
Widowed in 1963, she then embarked on a career in banking, pioneering special banking services at the West Side State Bank. In 1969 she married Samuel E. Hunt and moved to Fort Wayne, Indiana, then to Hot Springs Village, Arkansas. There she served on the board of directors of the public radio station for Arkansas and helped found the Village Community Foundation. At age 80, and after the death of her second husband, she returned to her beloved Northern California. There she served on the vestry of St. Luke's Episcopal Church and played a vital role in the Rossmor community in Walnut Creek.
Survivors include her children, William (Tita) Paddock of Houston, Mary (Ike) Griffin of Winter Park, Florida, and Robert (Carol Ann) Paddock of Houston, as well as five step-children and 19 grandchildren. She is also survived by her half-brother, Richard Lawton (SPHS '39). Her stepbrother, Fred Hornick (SPHS '37) preceded her in death.
Forth Worth Star-Telegram, January 14, 1999