South Pasadena High School
Alumni Association - Classes of 1907-2020
In Memory
Mary 'Betty' MacNair (Johnson) - Class Of 1933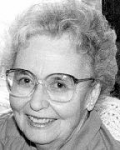 Betty Johnson, a local artist, passed away peacefully in Pasadena, California on August 5, 2011. She was 96. She is survived by her two daughters, Polly Henninger and Rosada Nolan, five grandchildren and three great-grandchildren. Her beloved brother Jerry, preceded her in death.
Betty was born in Long Beach, California to Jerome and Mary MacNair and lived in Hollywood and South Pasadena. When Betty enrolled at Occidental College, the family relocated to Eagle Rock and built a New England style house directly across from campus where friends and family gathered for the next forty years. After graduating from Oxy, Phi Beta Kappa, Betty went abroad where she studied at Oxford University, lived with cousins in Geneva, and volunteered at International House in Chateau Thierry, outside Paris. Her time there was cut short as the war in Europe escalated. A one-word telegram from her father, "Come" on August 28, 1938 brought her back to the U.S. She enrolled at Teachers' College, Columbia University and earned an MA in English in 1939. She returned to Southern California where she volunteered at camps for conscientious objectors during World War II. There she met Paul Johnson whom she married in 1943. They lived in Eagle Rock and raised two daughters.
Betty taught junior high school English on a part-time basis; Paul taught mathematics at Occidental College. They divorced in 1959. After the divorce, Betty worked at the First Presbyterian Church of LA where she created the Variety Club with entertainment and fellowship for seniors in an era before senior centers. A woman of faith, she integrated Christian beliefs with humanistic values from the Transcendentalists and others.
In 1973, Betty moved to Pasadena where she pursued oil and watercolor painting of people and still life subjects, particularly flowers, and drew humorous, insightful cartoons of the "Little Old Ladies of Pasadena," originally published in the 1970s and continued into the 2000s. She spent her final ten years in various assisted living facilities. She enjoyed listening to the piano which her daughters played for her. Service-oriented, despite progressive dementia, she offered her good humor, kindness, and support to the other residents.
Pasadena Star-News, October 9, 2011