South Pasadena High School
Alumni Association - Classes of 1907-2020
In Memory
Andre Anthony Pineda - Class Of 1982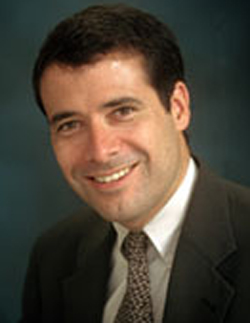 Andre Pineda, a Democratic pollster and expert on the burgeoning clout of Latino voters, died this week. He was 46. He died Tuesday, September 27, 2011 after jumping off Pasadena's Colorado Street Bridge.
Pineda, a native of South Pasadena, built an international campaign practice on the strength of his experience in several facets of electioneering, including direct mail and field organization as well as opinion polling. His clients included a number of corporations and philanthropic groups along with a roster of Democratic candidates and causes.
In 2008, Pineda was the pollster for New Mexico Governor Bill Richardson's presidential campaign. After Richardson left the race, Pineda joined Barack Obama's general election effort, working on surveys to help boost Latino support.
Richard Schlackman, who hired Pineda in Washington in the mid-1990s for his San Francisco-based consulting firm, said Pineda was the rare practitioner who combined creativity with a facility for number crunching. "It's why our campaign mail was so good, and that was back in the days before micro-targeting," said Schlackman, referring to the computerized data sifting that has become today's political norm.
Pineda was born October 23, 1964, and attended South Pasadena's public schools. He studied math and computer science at the University of Massachusetts, Amherst, and earned a master's degree in public policy from the University of Michigan. He worked for a number of major Democratic polling and consulting firms before establishing his one-man operation in Pasadena.
Pineda's Facebook page was filled this week with tributes, including testimonials from many of the young people he mentored. He taught a class on opinion polling at USC and was a frequent visitor on campus. The university has established an annual award in his name, for students interested in pursuing political careers.
Apart from his campaign work, Pineda loved to travel and was an avid bicycler--he prided himself on navigating Southern California via public transit--and wine aficionado.
Pineda is survived by his wife, Araceli Ruano, a leader of the liberal Center for American Progress; a brother,Baron Pineda (SPHS '85), and his parents.
Los Angeles Times, October 1, 2011
****************
Andre Pineda (1964-2011) was a Democratic pollster with more than 20 years of experience in national, state, and local politics. Among his many accomplishments, Andre conducted public opinion research for former New Mexico Governor Bill Richardson during the Democratic presidential primary in 2008, and later ran Latino voter research for Barack Obama's general election campaign.
In addition to his work in this country, Andre conducted research in France, Germany, and the Netherlands in order to help his technology clients better understand their new customer base. He worked on behalf of political and corporate clients from the Americas, Europe, and Asia. Pineda also won competitive selection by the European Union to a program designed to give young leaders from around the world a first-hand appreciation of the EU's goals, policies, and peoples.
He was an example to young politicos everywhere, particularly at the University of Southern California, where he served as a lecturer, mentor, and role model to USC students through his work at the Jesse M. Unruh Institute of Politics. Andre was a tremendous pollster, political professional, peer, and friend. He will be missed.