South Pasadena High School
Alumni Association - Classes of 1907-2019
In Memory
Leon A Soper - Class Of 1932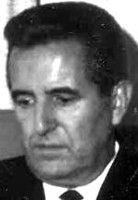 Leon A. Soper, Jr. '32 was born March 21, 1914 to Ruth and Leon A. Soper Sr. in Hartford, Connecticut. The family moved to San Marino, California in 1931. Lee graduated from South Pasadena High School and attended Pasadena Junior College.
Before WW II he was credit manager for General Electric Credit Corporation in Los Angeles. He entered the Navy in 1942 as a Radarman First Class, serving in the South Pacific Theater until his discharge in 1945. He would later be called to serve in the Korean Conflict in 1950-51.
His long banking career began at the California Bank in Los Angeles. In 1964 he successfully began a new California Bank in Chico, California then to Visalia to manage the California Bank there. His next move was to Bakersfield to open the new California Bank as Vice President where he remained for a decade.
He was very involved in civic affairs, serving on the Chamber of Commerce Military Affairs Committee, was a member of the Southern Sierra Council Boy Scouts, was a member of the Bakersfield Board of Realtors, a Fellow of the National Institute of Credit, and a graduate of the USC School of Business Economics. He was very proud to be a part of procuring the Tartan Track at Bakersfield College in 1974.
He leaves his wife, Pat, of 55 years. Theirs was a uniquely loving union. Ther only son, John David died in 1985, a loss from which they never fully recovered. He also leaves his beloved daughter, Kathleen (Mrs. Robert Langdon of Barnardsville, NC) and granddaughter, Kareen and her four children of Pasadena. He leaves his brother, Comdr. David Lee Soper of San Diego; four nieces and their families. His sister, June Goodman (Mrs. Daniel C. Goodman) died in 1987. His youngest sister, Virginia (Mrs. George Sterling) died in 2001.
He was a former member of both Stockdale and Bakersfield Country Clubs where he was an avid golfer who played to win. He was a Christian, always a gentleman. He loved good music and was a strong supporter of the Bakersfield Symphony Orchestra, believing it to be one of the finest. He was a lifetime member of Symphony Associates.
Bakersfield Californian, July 10-11, 2004