South Pasadena High School
Alumni Association - Classes of 1907-2020
In Memory
Margaret Sullwold (Moritz) - Class Of 1932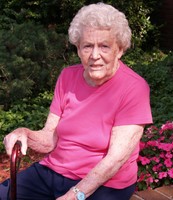 Margaret Sullwold Moritz died on April 5, 2013, at the age of 98, at home in Hartsdale, New York. She was born September 14, 1914 in St. Paul, Minnesota, to George and Margaret Sullwold. Throughout her life she shared fond memories of the summers she and her family spent at Minnesota's White Bear Lake. The family moved to South Pasadena, California, where Margaret and her brother George, Jr (SPHS '30) attended South Pasadena High School and UCLA.
Margaret earned her bachelor's degree in French at UCLA and later did graduate work in Chinese at the University of Washington. Margaret was active with the national YWCA throughout her life, and met her husband, Paul Moritz, through his work with the national and international YMCA. They married in Topeka, Kansas in 1941. Margaret and Paul lived in Beijing in 1947, where Paul was already working with the YMCA and United China Relief. After about a year in China, they returned to California. They lived alternately in New York's Westchester County and the Los Angeles area throughout their married life, and their four children were born alternately on the two coasts. In 1968 while living in White Plains, New York, Paul died at the age of 50.
After Paul's sudden death, Margaret returned to work for the YWCA and later became an administrator for the Volunteer Service Bureau of White Plains and for the Westchester Community Foundation. In retirement, she continued to support and serve St. Bartholomew's Church, White Plains, and Hitchcock Church, Scarsdale. She traveled widely with her friends and loved to entertain them for dinner or bridge parties. Throughout her long life, Margaret cherished her family and her many friends. She was and is dearly loved. Margaret is survived by her four children: Susan Moritz of Hartsdale; Thomas Moritz of Los Angeles; Ann (Richard) Chesnut of Lake Peekskill; and Deborah Moritz of Madison, Wisconsin; and four grandchildren.
The Journal News, April 17, 2013