South Pasadena High School
Alumni Association - Classes of 1907-2019
In Memory
Frances Thurman (Fisk) - Class Of 1940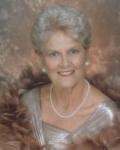 Frances peacefully passed away on April 18, 2014. She was born September 18, 1922 in Dillion, Montana, the third child of Robert and Mildred Thurman. After graduating from South Pasadena High School, Fran attended UCLA.
In December 1942 Fran married William McKown. They raised four children and spent much of their 55 years together in Woodland Hills. Frances served as the director of human resources at Encino and Northridge hospitals, retiring in 1986. The couple then moved to Warner Springs. Her beloved husband, William, predeceased Fran in 1997. Fran was actively involved in her community and church. Later, Fran married Robert Fisk (SPHS '40) of San Marino, who predeceased her in 2001.
Frances was a great lady who will be missed. She is survived by her daughter, Michele Knowlton; her sons Bryan, Dennis, and Jon McKown; nieces, nephews; four grandchildren; three great-grandchildren; and many good friends.
Los Angeles Times, May 10, 2014