South Pasadena High School
Alumni Association - Classes of 1907-2020
In Memory
Carlotta Welles - Class Of 1935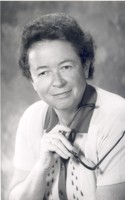 Carlotta Welles, a native and longtime resident of the Altadena/Pasadena, California area; then in Linda Vista overlooking the Rose Bowl for 20 years, has died. For the last 15 years she was living as a retired resident of Claremont. There she has been no stranger, since she had graduated from, and long supported Scripps College and continued to share activities with some of her college contemporaries, all now in their 90s.
Carlotta's death on May 23, 2010, at home under VNA/Hospice Care was peaceful but not really unexpected because of her declining health. She also had continued her active interest and participation with colleagues and activities of her professional life work as a practitioner, teacher, organizer/leader, faculty, and speaker in and about Occupational Therapy where she was both a hospital therapy program director at LA County General Hospital in the 1950s, as well as a therapy administrative expert since during World War II. She had been appointed by the military to organize and direct the occupational therapy program at the 1500 bed Birmingham Army Receiving Hospital. Later, she served as Western Regional Over-sight Director of the OT programs in 11 West Coast army hospitals. Post war, she organized and headed at LA City College, the first junior college level program in Southern California to prepare OT Assistants. With the complexity of healthcare and staffing, Carlotta was increasingly focused on personnel practice patterns, and areas for therapy program expansion/development.
Carlotta remained active in various roles as a helper in resident life in her retirement community until about five years ago, when she grew more limited physically and mentally with Alzheimer's disease. Carlotta is survived by one sister, Lucy Harrell of Haines, Alaska, and one niece in Portland, Oregon; and also by Florence S. Cromwell, her OT colleague and housemate for 60 years.
Pasadena Star-News, June 13, 2010