South Pasadena High School
Alumni Association - Classes of 1907-2019
In Memory
Martha Fundenberg (Nasser) - Class Of 1953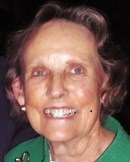 Martha Nasser passed away unexpectedly but peacefully at her home December 12, 2015. She is deeply missed by her loving family and friends. Born in Beverly Hills to Martha and William Fundenberg on May 11, 1935, Martha was raised in San Marino. She attended Valentine and Huntington Schools and graduated from South Pasadena High School in 1953.
Some of Martha's fondest memories of her childhood were summers spent with her family in Balboa, sailing and enjoying the bay in Newport Beach. She graduated from the University of Redlands in 1957 and spent several years as a beloved teacher in the Yucaipa and South Pasadena school districts. In 1962, she married Andrew Nasser, whom she met on the tennis courts at the Altadena Town and Country Club. They shared their love of the game as players and fans throughout their 53 years of marriage. Martha and Andrew had four daughters: Anne Nasser Stuckenschmidt, Sarah Nasser Larsen, Andrea Nasser Reinkensmeyer, and Mary Louise Nasser. For the last 20 years, Martha played an essential support role to Andrew in running his engineering business, Omnispan Corporation.
Martha was a member of the Pasadena Guild of the Childrens Hospital of Los Angeles and was a faithful worker for the annual Treasures and Trivia Sale. She was a member of Lake Avenue Congregational Church where she was nurtured in her faith since 1973. She was also a member and leader in Bible Study Fellowship for 20 years. She thoroughly enjoyed her weekends and summers at the beach in Newport, together with her family. Sailing her beloved little blue sabot and regular Saturday morning breakfasts with long time friends at the Newport Harbor Yacht Club brought her much joy. Martha was a shining example of a selfless and devoted wife, mother, grandmother, and friend, who lived a life of prayer and humility. More than anything, she loved to pray for her children and grandchildren, who always felt her support, whether near or far. She had great confidence in her heavenly Father and this assures us in her death.
She is survived by her beloved husband, Andrew; her children, Anne (Dean) Stuckenschmidt, Sarah (Michael) Larsen, Andrea (David) Reinkensmeyer, and Mary Louise Nasser; her beloved sisters, Eleanor Fundenberg DeCarteret (SPHS '46) of Hidden Hills and Louise Fundenberg (SPHS '53) of Newport Beach; and her eight grandchildren. Her brother William Fundenberg (SPHS '50) predeceased her in 2003.
Pasadena Star-News, December 20, 2015