South Pasadena High School
Alumni Association - Classes of 1907-2019
In Memory
Louanne Moloney (Holland) - Class Of 1953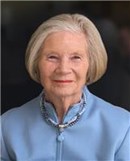 Louanne Moloney Holland, age 83, passed away on July 11, 2019 after a lengthy illness. She was at home surrounded by her husband, Bill and her children, Jeff and Stacy, and their spouses, and her grandchildren. It was not unusual for these close knit Illinois and California families to be at Louanne's bedside during her final days because they have never been apart over Christmas holidays and Spring breaks.
Louanne graduated from the University of California at Berkeley and received her Masters degree in Education from Stanford University. She was president of the University of California chapter of Delta Gamma sorority. After graduation, she taught high school in Long Beach, California for two years and then moved to Kenilworth, Illinois where she devoted two years to the United Way.
One of the earliest leaders of the Chicago Foundation for Education, Louanne devoted 33 years of volunteer service assisting Chicago Public School teachers in their efforts to enhance the classroom experience and ultimately the lives of their students. She was named a Life Trustee of the Chicago Foundation for Education in 2017.
Louanne's love of music and the theater led her through every season of the Chicago Symphony, Lyric Opera, Shakespeare Theater, and the Goodman Theater, attending with Bill or friends of hers for over 30 years. She was a member of the Fortnightly of Chicago.
A letter to the family from one of Louanne's friends described her as a "talented athlete with excellent tennis and paddle skills who added a great deal to her investment and current events groups, her discussion club, book club, film group among others." Her leadership extended to the presidency of the Junior League of Evanston which she joined in 1965.
Another life-long friend wrote, "Louanne was accomplished, admired and adored, always smiling, accessible to her friends, so humble in her achievements, such fun to be around and how grateful so many of us were to share her life and times."
She was called 'Kitchen' by her oldest grandson when he was two years old because that was where he knew he could find her. So now she is Kitchy to six grandchildren. Kitchy will always be among them as the family continues to gather each year in the places she knew and loved.
The Wilmette Beacon, August 1, 2019