South Pasadena High School
Alumni Association - Classes of 1907-2019
In Memory
Marilyn Oviatt (Cowley) - Class Of 1953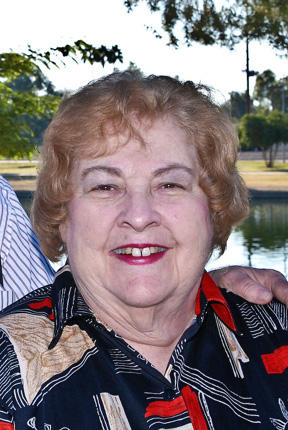 Marilyn Oviatt Cowley came into this world on December 3, 1935 and left peacefully on September 25, 2009. She was the oldest child of Lewis Oviatt and Bessie Marie Smith. She was born in Hollywood, California and grew up in South Pasadena.
Marilyn met her husband, Chad Cowley while attending Brigham Young University. After their marriage they settled in Glendora, CA. while Chad finished his degree. During this time, four of their five children were born. In 1963, soon after his graduation, Chad and Marilyn moved to Scottsdale, Arizona where they have resided since. This is where their fifth child was born. Marilyn was very involved with her children as they grew up. She spent several years working in various leadership positions in the Cub Scouts and helping in various ways with her daughter's Girl Scout activities. Whenever possible, she attended the activities her children were involved in whether it was a little league game or a band concert. She actively pursued opportunities to serve in booster clubs and in other ways to show her support for her children. She continued this when she could, with her grandchildren, doing her best to be at all of their important events.
Marilyn has been an active member of The Church of Jesus Christ of Latter-day Saints where she has held many positions in both the Relief Society and primary organizations. Education was always important to her. She encouraged her children to do their best in school. After the kids were well on their way in their education, she went back to school to finish the degree she started at BYU. She graduated from Arizona State University with a BA in Art after several years of attending school part-time so that she could be at home with her children when they were home. In later years, Marilyn was an active member of the Scottsdale Artists League and enjoyed every opportunity to become better at her craft. She was editor of their newsletter for many years. She loved to go on the league trips where she had opportunities to paint on location and learn more about the history of the area.
Marilyn enjoyed being with her children, grandchildren, and great-grandchildren. She was always interested in what they were doing in their lives. She enjoyed camping with her family and always looked forward to the annual family camping trip. Throughout her married life, her husband, the love of her life, was her constant companion. They served in many callings together and supported each other when they weren't serving together. Marilyn is survived by her husband, Chad; her sister, Gayle Crisman (SPHS '56); her five children, Charlene, Steven, David, Curtis, and Richard; 17 grandchildren and 20 great-grandchildren.
Meldrum Mortuary, September 2009