South Pasadena High School
Alumni Association - Classes of 1907-2019
In Memory
Rene Thompson (Spicer) - Class Of 1953 VIEW PROFILE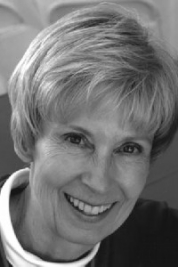 Our beloved Rene passed away peacefully on October 15, 2011 with her family by her side. Her gracious spirit touched the lives of so many, and we will continue to cherish our memories of her warmth and kindness for the rest of our lives.
Rene was born in Los Angeles on January 9, 1936 and graduated from South Pasadena High School. She studied Political Science at Stanford University, where she met and married George Kroeger after graduating in 1957. She lived for many years in South Pasadena raising her four children and beginning her life-long commitment as a volunteer. She belonged to many organizations including Las Floristas, John Tracy Clinic for the Deaf, Pasadena Jr. Philharmonic, and recently, the Peninsula Volunteers. After moving to Saratoga in 1979, she supported the local schools' PTA, music and art docent programs. Engaging her passion for politics, she joined Congressman Tom Campbell's staff in the 80s, eventually working for him full-time. Rene returned to "the Farm" and was thrilled to serve the Stanford Alumni Association from 1992-2006. She loved these years.
Rene will be remembered for her devotion to her family and many friends, her thoughtfulness, generosity, grace, welcoming smile, twinkling eyes, and zest for life. She will be greatly missed. Rene is survived by her four children: oldest son Jim of Pasadena, CA, second son Scott (Laura) of Boulder, Colorado, daughter Karen (Brad) of Stockton, CA, and caboose Blake (Michael) of Atlanta, Georgia. She is also survived by her brother Phillip Thompson (Dorothy) of New Mexico and her adored grandsons, Dylan, Chad, Adam, and Ben.
San Francisco Chronicle, October 24, 2011
Click here to see Rene's last Profile entry.