South Pasadena High School
Alumni Association - Classes of 1907-2019
In Memory
Hayward Hawke - Class Of 1953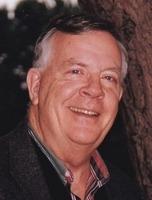 Hayward Haanel Hawke (February 2, 1935 - October 29, 2019) is survived by his wife, Sandy, and his sons Chris (Peggy) and Tim (Catherine); seven grandchildren and two great-grandchildren. He was preceded in death by his daughter, Heather; and the mother of his children, Nancy. We will greatly miss his wit, his jokes, and his penchant for always entertaining the family with a song.
Born in St Louis, Missouri to Chester and Beverly Hawke, Hayward moved often in his youth until his faily settled in California where he attended South Pasadena - San Marino High School. He attended Stanford University where he received a BA in Industrial Engineering. Upon graduating he worked for Carnation Milk Company, and then went on to work for E & J Gallo Winery for 34 fulfilling years.
Sandy and Hayward most enjoyed their traveling adventures together during their 22 years of marriage, journeying to many parts of the world. Hayward was a proud Eagle Scout and an avid bridge player, achieving Silver Life Master. He attended the USA Air Defense School in Fort Bliss, Texas and served domestically as a 1st Lieutenant in the Army Reserve and Army at Camp Hanford, Washington.
The Modesto Bee, November 13, 2019