South Pasadena High School
Alumni Association - Classes of 1907-2020
In Memory
Margaret Sprotte - Class Of 1968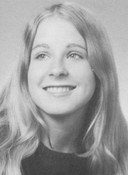 Margaret "Maggie" Sprotte was born July 11, 1950 in Pasadena, California, to proud parents Edward C. and Norma F. Sprotte. Maggie ended a difficult battle with cancer June 22, 2010 at home, surrounded by friends and family in Encinitas, CA.
Maggie was the second of four children and attended schools in South Pasadena and Bakersfield. She was in the graduating class of 1968 of South Pasadena High School and soon earned her Master's degree and Teacher's credential at San Diego State University. Maggie taught school for 34 years in the Encinitas Union School District as an elementary teacher (primarily kindergarten) and as a reading specialist. She loved her pupils, parents, and fellow teachers and was chosen EUSD's "Teacher of the Year" in 1997 and was a runner-up for San Diego County Teacher of the Year.
Maggie is survived by two sisters, Janet Whittington of Scripps Ranch and Patricia Sprotte and her husband Russell Watson of Fallbrook, CA; a brother William Sprotte and his wife Karen of Chico, CA; and an adopted sister, Elin Evans of Encinitas. The loves of her life include two sons, William and Jeffery Jenkins of San Diego; stepchildren, Justin Jenkins and Kristen Jenkins of San Diego; nephews Timothy and Scott Whittington of Phoenix, Arizona and San Marcos, CA., respectively, and James Edward Sprotte of Chico, CA., and a niece, Alexis Mae Sprotte, also of Chico.
As a member of the Church of Jesus Christ of Latter Day Saints, she drew strength, love, and inspiration from her loving friends and colleagues there, and was active in their mission. Maggie lived her life much like a gardener. She spread seeds of love, education, support, and encouragement to all around her. She had the gift to give the right proportion of each to those around her.
San Diego Union-Tribune, June 25, 2010