South Pasadena High School
Alumni Association - Classes of 1907-2020
In Memory
Marilyn Bain (Kallman) - Class Of 1964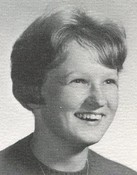 Marilyn Bain Kallman, age 73, of Grantsburg, Wisconsin passed away on March 24, 2019 at Casa De La Luz Hospice Center in Tucson, Arizona after a 13 year battle with renal cell carcinoma. Her loving husband, Lloyd, was by her side.
Marilyn was born on March 8, 1946 in Eureka Township and at an early age was adopted by Donald and Pearl Bain; they moved to Colorado, then New Mexico, and eventually ended up in South Pasadena, California. Marilyn lived in California until her senior year of high school when the family moved back to Grantsburg. Marilyn married Lloyd Kallman on July 4, 1964, in North Branch, Minnesota. Lloyd was her husband and best friend for nearly 55 years. From their marriage came a daughter, Kimberly, and a son, Kenneth. Marilyn graduated as an LPN in 1972 from Superior Technical College and worked at St Croix Regional Hospital in St Croix Falls, Wisconsin.
Marilyn loved her horses. She bought her first Appaloosa in the late 60s and still owned an Appaloosa at the time of her passing. During her showing career, Marilyn won numerous high point and regional awards, which included High Point in the National Appaloosa Trail Horse and Canadian National Appaloosa Showmanship. In later years, she enjoyed knitting, photography, and supporting and participating in the Diabetes Bicycle Rides. Her only grandchild, granddaughter Paige, was her greatest joy. They enjoyed numerous travels together. Their favorite trips included the Redwood Forest in California and the Grand Canyon in Arizona.
Marilyn is survived by her loving husband, Lloyd; daughter, Kimberly (Jim) Johnson, son Kenneth (Helen) Kallman; and granddaughter.
Swedburg-Taylor Funeral Home, Grantsburg, Wisconsin