South Pasadena High School
Alumni Association - Classes of 1907-2019
In Memory
Floyd Bradley St Clair - Class Of 1948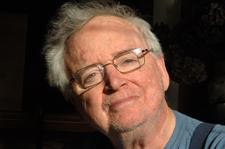 If Professor Floyd St. Clair ever had set rules for living, they would have been these: Be fully engaged in life and as passionate in anger as you are in love, and never let the sun go down on your wrath, no matter how mad you are.
An opera buff and critic, French literature professor, bon vivant, adventurous chef, and staunch technophobe, St. Clair lived those rules every day, every hour, and every minute, no matter if he was at a performance of Verdi's Othello or striding through a classroom at the University of British Columbia, tall, angular, and animated, as he taught students to think critically about the texts they were reading and, in extension, the world that surrounded them. Throughout his career, St. Clair eschewed the maxim that one published in one's discipline or perished, preferring instead to write about opera for magazines in New York, London, and Toronto, and for CBC Radio. While it wasn't what he was supposed to be doing, he once told a UBC publication that it didn't bother him a bit.
"I'm perfectly happy doing what I'm doing. It's my choice," he said. He liked that it gave him the opportunity to leave the ivory tower of academia and be more engaged in another world that he'd loved ever since he was in grade school. Opera represented what he valued: dramatic stories set to music that spoke to the human condition, complete with soaring voices that could whisper and still break your heart.
Floyd was born November 9, 1930 in Pasadena, California, one of two boys, to Floyd and Vivian St. Clair. His father was a doctor and amateur musician, his mother a nurse. They always encouraged their offspring to give their all to whatever interested them. Floyd often recounted how everyone in his home had to be quiet on Saturdays so he could enjoy radio broadcasts from the Metropolitan Opera without distraction. When he was old enough to go out alone, he would take the streetcar to Los Angeles for opera and symphony performances.
In addition to his love of opera, Floyd showed an early flair for languages, especially Spanish and French. Drafted into the US Army, he was posted in France as an interpreter and then did a stint at the Sciences PO in Paris in the early 1950s. He completed his PhD in French literature at Stanford University; taught for a time at Rutgers, and moved to Vancouver, British Columbia in 1959. A specialist in 19th century French literature, he taught in the Department of French, Hispanic, and Italian Studies at UBC starting in 1963 and retired in 1996. In 1971 he won a Master Teacher Award from UBC.
Floyd died in his sleep of heart disease, January 4, 2009. A notice of St. Clair's life sent out at UBC stated, "Both his students and his colleagues will remember his sparkling personality; his wit; his extraordinary sense of humor; his boundless energy; his life-long interest in people, and his love of dogs; and perhaps most of all, his unquenchable enthusiasm for literature, opera, and life."
Floyd leaves his life partner, David Watmough; a brother; a nephew; and a host of friends from around the world who became his family.
University World News, February 2009