South Pasadena High School
Alumni Association - Classes of 1907-2020
In Memory
James Donald Garofalo - Class Of 1948 VIEW PROFILE
Former La Plata County Democratic chairman and longtime Music in the Mountains board member, James Donald Garofalo died January 11, 2013 in Denver. He was 82.
"Jim and his wife Pat retired to Durango, Colorado to pursue a life of leisure," his family said of their move in the mid-1990s. "Jim was not very good at leisure. He immediately jumped back into his volunteer work."
Garofalo, who had a 35-year career at Lockheed Missiles and Space Co, starting in contract analysis and working his way up to what his family called "a top-security clearance and mysterious job responsibilities," generously shared his business experience with the organizations for which he volunteered. He was active with the local Democratic Party for years, serving as chairman for a partial term and a full term from 2003 to 2005.
"His real strength as chair was his knowledge of how politics work and how it takes adequate funding to run a proper campaign and run a party to get the message out," said Jean Walter, member of the executive committee. "He was so smart and savvy about the system. When he left, we were well into the black, and we've stayed there ever since."
His impact was equally significant at other organizations. Jim restructured the books and put everything in perfect order for Music in the Mountains. A music aficionado and son of an amateur conductor, Garofalo was an ardent supporter of the classical music festival and had a real knack for raising money. Garofalo also served on the boards of directors of Kiwanis Club of Durango, Youth Baseball of Southwest Colorado, the Durango Adult Education Center and Tri-County Head Start.
Jim had been involved in youth baseball much of his life, including serving as president of the Sunnyvale Metro Little League in California and organizing tournaments and serving as vice chairman for Youth Baseball of Southwest Colorado. He had a gusto and zest for life and never lost his sense of humor or positive outlook.
Jim was born to Sam and Rose Garofalo on November 4, 1930 in South Pasadena, California, where he grew up. He attended California Technical University and the University of California at Berkeley before serving in the Army in the Korean War, where he received the Purple Heart. Upon his return, he earned a bachelor's degree in business administration from the University of California.
Jim is survived by his wife of 50 years, Patricia Farrell Garofalo, of Durango; daughter, Lisa Garofalo of Albuquerque; sons Brian Garofalo of Hemet, CA, and John Garofalo of Pleasanton, CA.; sister, Kathleen Garofalo Burton (SPHS '51) of Palm Desert, CA.; and six grandsons.
The Durango Herald, January 17, 2013
*********************************************************
Tiger Cousins
This year the Tiger Cousins lost our patriarch, my brother, Jim Garofalo, class of 1948. Jim survived cancer three times over 30 years, but his heart and kidneys were weakened by chemo, and he died of congestive heart failure in January 2013 in his beloved Durango, Colorado. Jim was active in community affairs and was on the board of Music in the Mountains, a series of classical concerts with settings in various venues in and about Durango. The entire family attended the last concert of the season, Stravinsky's "Firebird," dedicated to Jim as a tribute to his many years of service in that organization and in the community. Many people spoke at his Celebration of Life. Jim wanted us to enjoy a family meal at Guidos, his favorite deli/restaurant. So here we are amidst the bottles and cans of olive oil, tomatoes, and pasta. Ciao Fratello.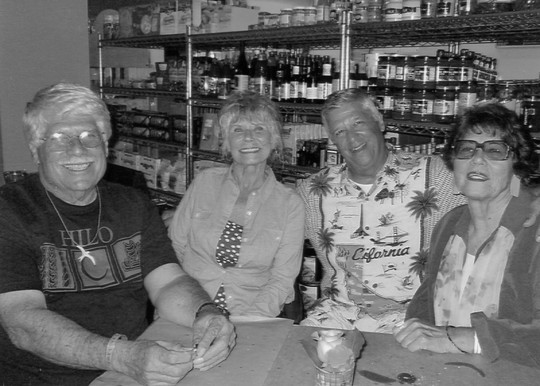 Don Romero '61, Judy Genovese Oltman '58, Fred Romero '60, Kathie Garofalo Burton '51
Click here to see James Donald's last Profile entry.