South Pasadena High School
Alumni Association - Classes of 1907-2020
In Memory
Karen Thorpe (Peters) - Class Of 1967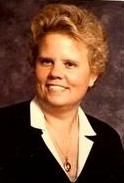 Karen Thorpe Peters (August 24, 1949 - August 10, 2020) passed away peacefully in her home. A beautiful soul has departed us, and we will be changed forever.
Karen was born in Los Angeles to Henry and Francis LaVinnie Thorpe. Much of her childhood was spent in South Pasadena where she attended South Pasadena High School and Pasadena City College and later went on to attend Cal State Los Angeles, where she earned her bachelor's degree in Music. An accomplished trumpet player, Karen took great pride in her years marching in the Rose Parade. More recently she was a longtime member of the San Jacinto community orchestra, played many special events in the area including the Ramona pageant, and taught private trumpet and flute lessons in the San Jacinto Valley. She loved hearing from her former students and kept in touch with many of them over the years. Karen dedicated herself to the healthcare field. Over the course of 30 years, she worked as an admitting clerk for both the Physical Therapy Sports Institute in Hemet and the Riverside County Hospital in Moreno Valley.
Karen is survived by her son Barry Peters, daughter-in-law Danielle, and her two granddaughters. Remembering Karen's kind words, her generous and loving spirit, or laughing out loud with her, Karen will remain forever in the hearts of those who knew her.
Press-Enterprise, August 16, 2020
************************************************
Karen and I met for the first time at the corner of Oxley and Windsor Place in South Pasadena in 1956. She and her parents lived on Oxley, my family lived on Windsor Place.
Needless to say, it was the first day of a lifelong friendship. We attended South Pas schools together, and Pasadena City College. She went on to Cal State LA and achieved a bachelor's in Music. There were a couple marriages, a couple divorces, and one kid (hers) between us. I like to think that's a pretty rare partnership.
I remember watching Chiller on Saturday nights over at her aunt and uncle's home on Oxley. She had to walk me to the corner because it was 10 pm and the movie had scared me. We also liked to take in the double feature on weekends during the summer, at the Rialto. An all-day event, all for 50 cents. Other South Pas haunts were Taco Treat, the plunge in the summer, Burr's Pharmacy and of course Fosselman's Ice Cream.
Her Aunt Vi and Uncle Burke had no children. They and Karen's folks lived in a duplex on Oxley at the corner of Fremont. An office building is there now. Dear Uncle Burke would give Karen a $20 dollar bill and we would race to Taco Treat for bean burritos and tacos. All without any parents knowing of course. Then, when we were of driving age, he would let Karen take his Cadillac and we would usually end up on Sunset Blvd just gawking at everything, with KRLA, KHJ or KFWB blasting. Her parents gave Karen a new 1965 red beetle car for her 16th birthday. We went everywhere in that car. The beach in summer of course. But when the Beatles came to LA that year, we thought we would try to find their rented house in the Hollywood Hills. We didn't have a clue where the house was, and we ended up just driving blindly all around Hollywood and Beverly Hills. In 1966 she and I attended the Beatles concert at Dodger Stadium. We later took in Paul McCartney's concert in 2014, again at Dodger Stadium.
Karen was an animal lover, and when she was a kid her parents got her a dog that she named Lassie. I have never seen this kind of dog since, but it had a short Corgi body and the face of something between a fox and a Pomeranian. She was the light of Karen's life. A few years ago, I asked her what kind of breed Lassie was. Karen replied, "a South American shepherd." I looked it up on Google and found nothing. I think I know what happened: Karen's mom Fran had quite a sense of humor. I can just see Karen asking her what Lassie was and Fran probably shrugged her shoulders and said, "South American shepherd?" Except for maybe a few short spans, Karen was never without a dog or two for the rest of her life.
Karen was a merciless punster. She knew how much I hated it but that didn't stop her. She had a quick mind and it flitted from one thing to the next with lightning speed. If Karen was your friend, you had a steadfast and loyal compatriot. She always took your side and kept your secrets.
Four years ago, when she first told us of her multiple myeloma diagnosis, we were dumbfounded. But she had a positive attitude. She was an obedient patient, following the doctors' instructions and heeding their advice. She was in at least a couple clinical trials. She convinced us that she would beat it. Sadly, that was not the case. I'm still in shock. I don't remember a time when Karen was not in my life. The best I can do is treasure all the memories and good times we created together. Love you forever, my friend.
Connie Wardlow '69