South Pasadena High School
Alumni Association - Classes of 1907-2020
In Memory
Agnes Mulhearn - Class Of 1961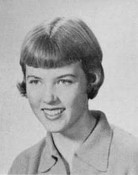 Agnes Sue Mulhearn, daughter of James and Agnes Mulhearn, died on October 17, 2009. She was 65.
Born in Hollywood on October 31, 1943, she grew up in South Pasadena where she became a ranked tennis player and the South Pasadena High School Homecoming Princess in 1961. Just before the Rose Parade, "Princess Agnes" and her lifelong friend Susan Winslow, who was driving, were involved in a traffic accident at the Huntington Library. Agnes appeared on the float wearing bandages over her face. She attended Occidental College for her undergraduate degree and then entered Loyola Law School. After the first year she was the only woman left in her section. Surviving this training at this time is a testament not only to her intellect, but to her unyielding determination. Her fearlessness and strength were her most memorable attributes.
Agnes was always willing to give her opinion and was unwilling to back down when she was right. In this, as in so many other things she did, she was an inspiration to all who knew her. Shortly after graduation, she made partner at Ball, Hunt, Hart, Brown, and Baerwitz. Living in Long Beach, she met and wed Robert Bellevue in Carmel.
A life long advocate on behalf of the poor and oppressed, Agnes returned to Long Beach to work as the Senior Judicial Research Attorney for the Second District Court of Appeals. She loved the direct contribution her work at the Court of Appeals made protecting the underprivileged. Her civic duties were numerous. A very active supporter of the Long Beach Symphony, she served on the Board of Directors for over 25 years. She spent many years on the Executive Committee and was always a vocal advocate for the music and musicians. The first Long Beach Symphony Orchestra Crescendo was held in the dome that housed the Spruce Goose. When rain began pouring through leaks in the roof, Agnes (in full formal dress) began moving potted plants under the leaks. The guests arrived to a dry floor and a well-watered indoor garden.
Agness lived in South Pasadena, Los Angeles, Sydney, Colorado, Carmel Highlands, and Long Beach. She traveled extensively around the world, but loved living on the Long Beach peninsula. When she retired, she joined the Peninsula Garden Club. She was also a long-time Los Angeles Dodgers fan.
Agnes fought cancer with the same persistence she employed elsewhere. Her initially poor diagnosis was consistently redefined as Agnes' strength wrestled with the disease. Her life was infinitely prolonged and enriched by the loving care of her husband, Robert. Agnes is survived by her husband, Robert Bellevue; stepsons, Oliver and Ryan Bellevue; sister and brother-in-law, Ann Marie and Gene Coffman; nieces and nephews, Tom, James, Caroline, Mary Ann, Kate, and James; great nieces and nephews, Parick, Ann Marie, Walter, Phoebe, Grace, Dashiell, Josh, and Liam. She was preceded in death by her brother, James Mulhearn.
The family would like to thank all the family, friends, and medical staff for their significant help while Aggie was sick, especially Jim Waisman, Gary Cummins, Susan Phillips, and Susan Winslow.
Long Beach Press-Telegram, October 20, 2009