South Pasadena High School
Alumni Association - Classes of 1907-2020
In Memory
David Robert Greene - Class Of 1962 VIEW PROFILE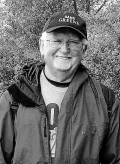 David Robert Green, 68, passed away on October 5, 2012, after a brief struggle with pancreatic cancer. He was at home, surrounded by a loving family and incredible circle of friends. David was born in Altadena, California on January 16, 1944. He was the first of three children and the apple of his mother's, Marlowe Giles Greene, eye. His father, James Elmer Greene, was away from home for World War II but was allowed to come see his newborn son and wife for a day before being deployed.
David grew up in South Pasadena, graduating from South Pasadena High School in 1962. He went on to pursue a degree in engineering, attending both Cal Poly Pomona and Cal Poly San Luis Obispo for undergraduate and master's degrees. Always an engineer at heart, David enjoyed figuring out how things worked and tinkering on cars, boats, motorcycles, around the house and yard, and more recently in the woodshop. After a career in the oil industry he was lucky to retire early in 1999 and pursue his second love as captain of a sailboat.
He married Cynthia Hunnex in 1967 and together they spent 45 years raising two kids, making tons of lifelong friends and sharing many adventures. When David decided he wanted to sail, Cynthia realized she had better learn too and together they sailed the seas between California and Mexico, first on their boat "Reaching" and later on "Reaching Deep." The boats' names reflected their attitude toward life--always reaching and always growing. They lived in Bakersfield, California (among other places) before moving to Portland, Oregon in 2007 to be closer to family. Once in Portland, they characteristically dove right in, becoming very active in their church and the local ALS Association. They were helpful with newly diagnosed families, showing it is possible to live a full life with ALS. Most recently, David embraced his roles as Pop-Pop to three grandsons and caregiver for Cynthia. The engineer in him allowed him to constantly find ways to make things to help Cynthia live with ALS. He made arm supports to allow her to sew, attachments for her wheelchair and repaired gouges in the walls with just a little bit of commentary. He spoiled the grandsons with root beer floats and old cartoons, usually laughing louder than all three of them combined. He loved to teach anyone who would listen or watch and taught both his kids (and countless others) how to repair things, make things, and to take care of others. He had a sharp sense of humor, sometimes irreverent, a heart that was always open to others and an intense sense of loyalty. He is preceded in death by his mother; survived by his father Jim; his wife Cynthia; his son Todd and his wife Cindy and their three boys; his daughter Kari and her husband Garrett; his sisters, Margie McBride (SPHS '64) and Mary Townsend (SPHS '76) and their families; and his dog Quincy.
Click here to see David Robert's last Profile entry.