South Pasadena High School
Alumni Association - Classes of 1907-2020
In Memory
Joan Marie Isgrig (Malette) - Class Of 1962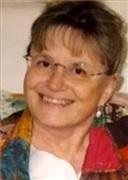 Joan Marie Isgrig Malette died peacefully in her sleep at her home in Santa Barbara on April 8, 2016. She was 71. Gone too soon... Her warm light has gone out, but her glow remains. She will be dearly missed by her family and many friends. Remembered for her love of family, sharp wit, intelligence, devotion to books, her cat Miki, as well as her sunny, kind personality.
Born in Oregon on December 29, 1944, Joan grew up in South Pasadena, moving to Santa Paula with her beloved husband Harry and children. After 30 years living in Santa Paula she and Harry moved to Independence, Oregon, where they started HLM Air Services; living part of the year in Anthem, Arizona. Following the loss of her dear Harry in 2009, Joan settled in Santa Barbara to be closer to her family.
Joan did her undergraduate work at UC Santa Barbara and got a Masters in Library Science at UC Berkeley. Always on a quest for knowledge, Joan was in love with learning. Her passion for literature and books sent her on a life long journey of collecting. Her library is extensive and beautiful. She shared her love of books with her family. Joan volunteered her skills as a librarian most recently at Planned Parenthood.
Joan leaves a loving legacy: daughter Beverly (Greg) Martinez, son Steve (Wendye) Malette, daughter Leslie (Rob) Spero, and sister Cathy (Richard) Lampman. Grandma Joanie adored her eight grandchildren and one great-grandchild, and they will miss her loving counsel and big hugs.
Santa Barbara News-Press, May 17, 2016