South Pasadena High School
Alumni Association - Classes of 1907-2020
In Memory
William Raymond Houston - Class Of 1960 VIEW PROFILE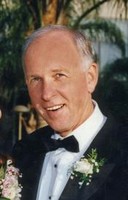 Dr. William R. Houston entered into eternal life on March 17, 2012, at the age of 69. "Bill" was born on September 23, 1942, in Los Angeles. A resident of Arcadia for 33 years, he was one of 10 children born to Samuel and Myrtle Houston. Bill was fond of saying to everyone, "if you're reading my name in the paper, you know I'm no longer here!"
A graduate of South Pasadena High School, Bill went on to earn a Bachelor's degree from Cal State University, Los Angeles. He met and married the love of his life, Betty Lemire during this time, and the two began their electric and extraordinary journey together in August of 1964. He had two sons, Bill and Tom, to whom he passed on his integrity and good sense of humor. He went on to teach high school mathematics in East Los Angeles for several years and though he loved his students, Bill always had within him a strong desire to become a dentist. He graduated, with honors, in 1978 from the school of dentistry at the University of Southern California, a place where he thrived and affirmed his lifelong passion and dedication to "Trojan football."
Bill was skilled in the art of dentistry, and made his patients feel welcomed with his wry sense of humor and gift of singing while he perfected their smiles. He returned to USC in the 1980s, where he taught as a clinical professor of dentistry for eight years. Far surpassing "math and molars," Bill spent his life finding simple yet brilliant ways to incorporate humor and wittiness in conversation. He loved offering his ingenious remedies to all, and had a generous and compassionate spirit.
The crowning achievement of his life was becoming "Papa" to three beautiful grandchildren: Megan, William, and Alexandra. He loved to spend time with them; watching countless episodes of "The Three Stooges," trips to the mall for ice cream and cookies, and watching them play soccer and football.
Bill was preceded in death by his brother Dan (SPHS '63) in 2008. He is survived by his wife of 47 years, Betty; sons Bill and Tom; siblings Bob, Jim, Tom, Mary Lou (SPHS '61), Mary Ann, Tim, Greg, and Pat; three grandchildren; and several nieces and nephews.
Pasadena Star-News, April 10, 2012
Click here to see William Raymond's last Profile entry.