South Pasadena High School
Alumni Association - Classes of 1907-2020
In Memory
Stephanie 'Penny' Martin (Kipp) - Class Of 1960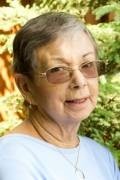 Longtime Alaska resident Stephanie Martin Kipp, known to friends and family as Penny, died at home in Anchorage, Alaska on July 29, 2010. Penny died after a year-long battle with the rare autoimmune disease scleroderma.
Penny was born April 14, 1942, in South Pasadena, California and grew up there. Penny attended Occidental College, where she met her husband Terry, and they were married in 1963. The spent the first three years of their marriage in Southern California and then moved to Phoenix, Arizona. In 1970, with their two daughters Kelley and Sarah, they moved to Alaska.
Throughout the years, Penny volunteered for the American Cancer Society and organized their equipment loaner pool. She worked as a clerk for National Bank of Alaska's research department for many years and also as a part-time clerk for Summit Tea & Spice. In her spare time and throughout her retirement, she enjoyed cooking, traveling, reading, napping, visiting with friends, road trips with her friend Rae, and spending time with her granddaughters.
Penny is survived by her husband of 47 years, Terry; daughter, Kelley Anne Oberhart of Durham, North Carolina; daughter and son-in-law, Sarah Kipp Perkins and Ken Perkins of Eagle River; granddaughters, Genevieve, Bonnie, and Ava; brother and sister-in law, Bo (SPHS '62) and Florence (SPHS '61) Martin of Irvine, California; and sister and brother-in-law, Joy (SPHS '64) and Donald Wills of Gunnison, Colorado.
Anchorage Daily News, August 3, 2010