South Pasadena High School
Alumni Association - Classes of 1907-2020
In Memory
Darlene Grana (Gery) - Class Of 1960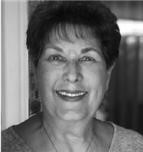 Darlene Grana Gery, 76, of Modesto, California, passed away on August 28, 2019. This exceptional woman was born on October 9, 1942 in South Pasadena. She was the daughter of the late Ruth and Carmelo Grana, and sister to the late Carla Grana Laucci (SPHS '63).
She is survived by her beloved husband of 30 years, Richard Gery; four adoring daughters, Doreen Merritt and husband Kurt, Portia Pisano, Deena Pisano, and Charla Morse and her partner Bryan Redding; two step-children, Gary Gery and Sharon Laredo; six loving grandchildren, Taylyr Ferdinand, Tiffani Merritt, Kirsten Merritt, Riley Johnson, Matthew Gery, and Michael Gery; one adorable great-grandson, Jamison Jones; distinguished brother-in-law John Laucci; one beautiful niece, Rosa Laucci; and her cuddly companions, Rosie and Delilah.
Darlene was a devoted wife and gracious, proud mother, grandmother, and great-grandmother. She had enormous love for her family and faith, and she cherished her friendships for life. Her stunning smile, infectious laughter, and selfless nature touched many.
The Modesto Bee, September 11, 2019